(BBG) Aberdeen's Hickmore Says Yield Curve Hardest to Get Right
European government bonds slumped, snapping a rally started after the European Central Bank's meeting two weeks ago, as some investors judged recent gains excessive.
German and Italian securities fell along with their core and peripheral peers in Thursday's selloff, with yields rising from lows seen after the ECB's Oct. 26 decision. The yield on 10-year bunds rebounded from an eight-week low touched on Wednesday amid concern notes had fallen too far, according to John Wraith, a strategist in London at UBS Group AG. He sees the rate on bunds rising to 0.9 percent by end-2018.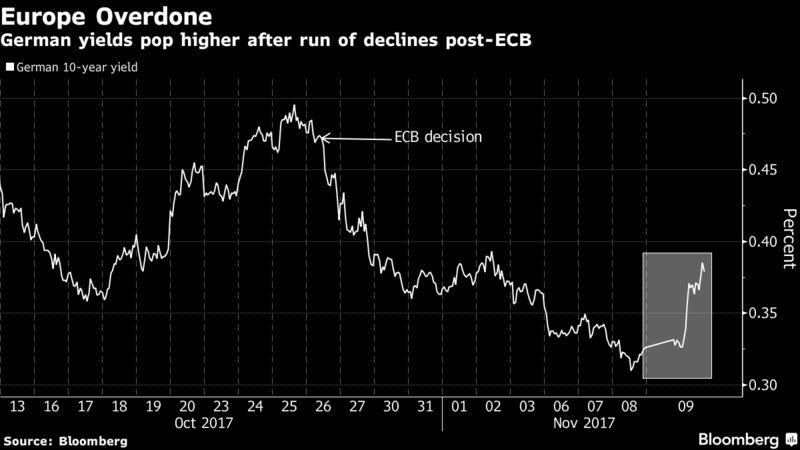 The bond market is having "second thoughts after the 'carry enthusiasm' following the ECB decision," said Arne Lohmann Rasmussen, head of fixed income research in Cophenhagen at Danske Bank A/S. "We have had four weeks with strong positive net cash flow and that is coming to an end now."
European bonds rallied across the board in the past two weeks after the ECB, which reduced its asset purchases last month, pledged to step up or even extend debt buying if needed. Fading political risks in Spain and Italy added to the bullish sentiment. Italy's 10-year yields dropped to the lowest in a year this week, while similar rates in Portugal fell below 2 percent for the first time in more than two years.
Ten-year yields in Germany rose six basis points to 0.38 percent as of 4:36 p.m. in London. Those in Portugal and Italy climbed four basis points to 2.05 percent and seven basis points to 1.82 percent, respectively.