…The same scenario again…
…One does not have to be a genius to realize that the EU is ill conceived and    does not work…
—
(BBG) Slovak Prime Minister Robert Fico's party won Saturday's general elections with a weaker-than-expected outcome, partial results showed, with as many as nine parties entering parliament in what may create a post-vote deadlock in the euro-area state.
Fico's Smer party, which pledged to raise living standards and protect the country against Europe's migrant crisis, lost its majority, taking 29.3 percent, according to partial results released Sunday that were based on 50.4 percent of districts counted. That was well below the 44 percent he won in a 2012 ballot. SaS party was second with 10.5 percent, early results showed.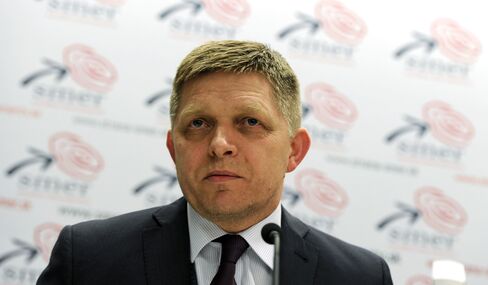 If borne out, the results mean Fico needs at least two coalition partners to control a majority in parliament. The diminished victory may also lead to a repeat of 2010, when he won elections but pro-business opposition parties united against him to take power in a government that collapsed halfway through its four-year term.
"If the math gives a chance to create a cabinet without Fico, I can't imagine that the opposition parties would betray one another and team up with Smer," said Grigorij Meseznikov, Director of Bratislava-based Institute for Public Affairs.
SaS leader Richard Sulik expects Fico, as the winner, to be handed the baton first to form a government but that he'd be ready to lead talks to create a "reform-oriented" administration, he told journalists late Saturday.
Forming Cabinet
"If the results allow, we will do everything possible to create a government without Smer," Sulik said.
Others that look set to make it into parliament include the Slovak National Party, Fico's former coalition partner from 2006 to 2010, with 15 seats, partial results showed. Two new political forces, a far-right anti-migrant People's Party and We Are Family, founded by Boris Kollar, a media entrepreneur and a father of nine children, may also make it to the legislative chamber for the first time.
Booming Growth
Despite having presided over booming growth, which accelerated to 4.2 percent in the fourth quarter from a year earlier, Fico's support has fallen since he took power. He struggled to maintain popularity as his message of keeping immigrants out of Slovakia collided with public discontent over underfunded services, which included strikes by teachers and health-care workers.
At the center of the election campaign were doubts over the future of the European Union. The country of 5.4 million has been struggling to weigh the benefits of its 2009 euro adoption against obligations such as sheltering migrants and helping Greece. Fico has joined neighbors Poland and Hungary in denouncing an EU plan to redistribute refugees in the bloc. That, along with the U.K.'s potential "Brexit" and Greece's economic woes, will dominate Slovakia's stint at the EU's rotating presidency, which begins in July.
Smer's focus on migrants backfired, according to Otilia Dhand, an analyst at Teneo Intelligence in Brussels, as it boosted support for more radical groups that have taken up the anti-refugee cause. They include the People's Party headed by Marian Kotleba, who has praised Jozef Tiso, president of the Slovak fascist satellite state during World War II, a regime that sent tens of thousands of Jews to Nazi concentration camps. Originally a high school teacher, Kotleba has been repeatedly detained by police for supporting fascism and stirring racial hatred. He hasn't been convicted of any crimes.
A potential alternative cabinet of five current opposition center-right parties joined by We Are Family is possible, but it may be unstable, Dhand said. A similar broad coalition crumbled in 2011 over SaS's opposition to an increase in Slovakia's contribution to EU's financial rescue fund.
"Negotiations on such a coalition would be extremely hard," Dhand said. "This may well end in early elections."