(BBG)
By Alex Morales and Ian Wishart8 de março de 2019, 08:41 WET Updated on 8 de março de 2019, 17:30 WET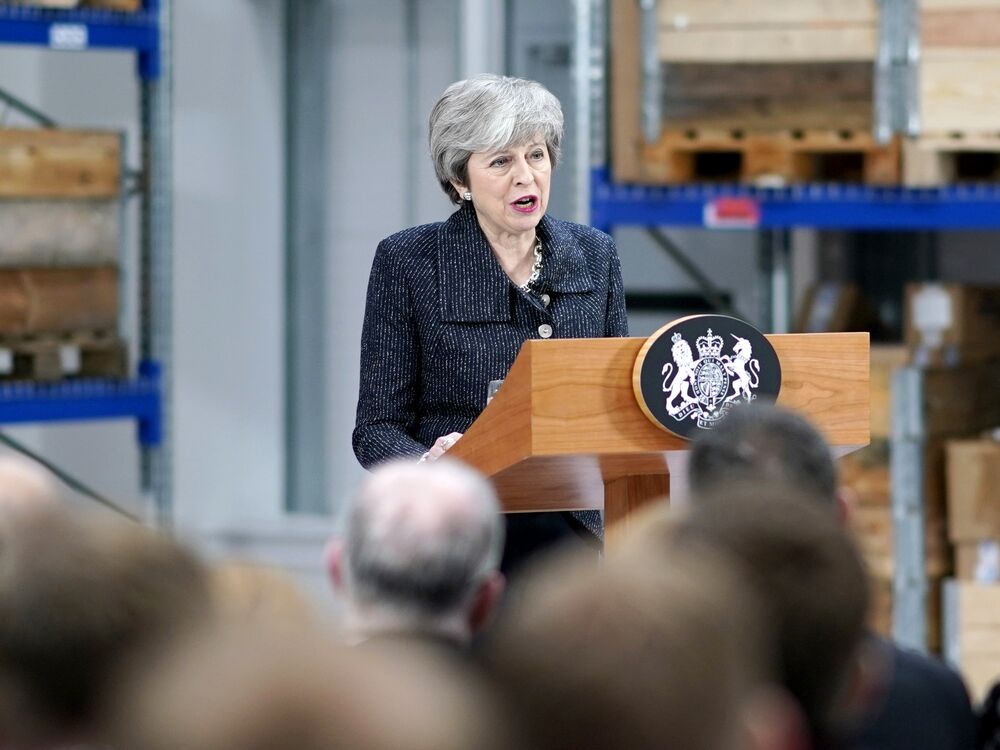 SHARE THIS ARTICLEShareTweetPostEmailIn this articleTWTRTWITTER INC30.04USD-0.08-0.27%
Follow @Brexit, sign up to our Brexit Bulletin, and tell us your Brexit story.
Theresa May appealed to members of Parliament to back her deal or risk seeing Brexit canceled, as the European Union made a new offer in talks that falls far short of U.K. demands.
Key Developments:
Barnier makes a new offer on the backstop — letting Britain exit the backstop, but keeping Northern Ireland in it. That's not acceptable to May.
May declines to say which way she'd vote in a ballot on a no-deal Brexit
Foreign Secretary Jeremy Hunt: history will judge both sides badly if there's a no-deal Brexit
U.K. Said to Have Rejected EU Offer Already (5:20 p.m.)
The U.K. had already rejected the EU's latest offer — that it would allow the so-called Irish backstop to apply only to Northern Ireland rather than the whole U.K. — on Tuesday, according to a person familiar with the situation.
It's essentially a return to the EU's initial plan for the border, and Theresa May has long said such a solution would be unacceptable because it would effectively create a barrier between Northern Ireland and mainland Britain.
Michel Barnier✔@MichelBarnierReplying to @MichelBarnier
4/5 EU commits to give UK the option to exit the Single Customs Territory unilaterally, while the other elements of the backstop must be maintained to avoid a hard border. UK will not be forced into customs union against its will.5014:12 PM – Mar 8, 2019Twitter Ads info and privacy440 people are talking about this
The EU also offered to bolster good-faith and best-endeavor provisions in the deal. The U.K. government was unhappy with the EU's proposals, according to another person familiar with the situation.
EU Makes New Offer, But Sees No Progress (4:20 p.m.)
EU chief negotiator Michel Barnier told European ambassadors that there's been no progress in Brexit talks, according to a person familiar with the situation.
Still, he outlined new proposals in an effort to make the so-called Irish backstop less controversial in the U.K. The headline-grabber is allowing Great Britain to leave the backstop unilaterally, leaving Northern Ireland behind. May has always said that would be unacceptable, and it's essentially a return to the EU's initial plan for the border.
He has also offered to bolster good-faith and best-endeavor provisions in the deal to make them more "actionable by an arbitration panel."
Barnier, who is said to have told ambassadors he fears the blame game has started, vowed to keep working to find a solution.
"The EU will continue working intensively over the coming days to ensure that the U.K. leaves the EU with an agreement," he said on Twitter.
In a further sign that talks aren't making progress, U.K. Attorney General Geoffrey Cox — who is leading British efforts — isn't expected back in Brussels this weekend, two people familiar with the situation said.
Labour's Kyle: Dozens of Tories Back Amendment (3:15 p.m.)
Labour lawmaker Peter Kyle told Bloomberg that "several dozen" Conservatives support his planned amendment to withhold approval of May's Brexit deal unless it's confirmed in a public vote.
Kyle said he and his co-sponsor Phil Wilson haven't yet decided whether to propose the plan for consideration with Tuesday's meaningful vote on May's deal. He suggested they would only propose the amendment, which is supported by Labour, if the vote looks close. At the moment, the House of Commons "is hardening against the government,'' which looks likely to lose by a wide margin, he said.
Tories who support the amendment "will only come across to it when they feel that every other avenue has been explored," Kyle said. "If the House believes it's going to defeat the prime minister decisively again, then we're going to have another week of exploring" options. The amendment "has to go down at a moment where it is an effective tool to get us out of this mess," he said.
Kyle also said he and Wilson met with Brexit Secretary Steve Barclay on Thursday to discuss the amendment, and had a "mutually constructive conversation."
DUP Stands Firm (3:00 p.m.)
As the cliff edge nears, DUP Leader Arlene Foster called on the EU to move into "deal-making mood," another sign the bloc is holding firm as the U.K. seeks to eat away at the backstop. Once again, Foster, whose party props up May's government in Parliament, demanded legally-binding changes to the withdrawal agreement and outlined her opposition to postponing Brexit day.
"I am not convinced that an extension makes a deal any more likely," Foster said in an emailed statement issued in response to May's speech. "In my experience, a firm deadline always makes a deal more likely in the closing moments of any negotiation."
May Refuses to Say How She'd Vote on No-Deal (1:20 p.m.)
Following her speech, May refused to say how she'd instruct Conservatives to vote on the question of leaving the EU without a deal if Parliament rejects her divorce agreement next week — or how she'd vote herself.
As things stand, not enough members of Parliament in her Conservative Party are likely to back her deal on Tuesday, meaning May will have to bring further votes on a no-deal Brexit and on extending negotiations with the EU. Brexit supporters argue that May should vote for leaving the EU without an agreement and instruct her party to do the same.
But that would risk provoking multiple ministerial resignations, so she's more likely to designate it a so-called free vote where there's no party line to take.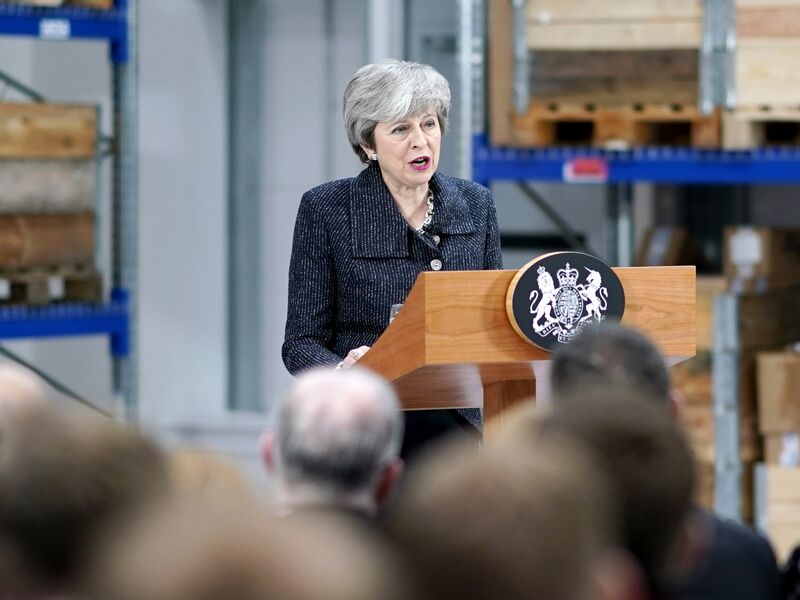 May: Brexit Might Not Happen If Deal Is Rejected (12:50 p.m.)
May said that Brexit might never happen if MPs refuse to back her deal with the EU in a decisive vote in Parliament next week.
"Back it and the U.K. will leave the EU. Reject it and no one knows what will happen," she said in a speech in Grimsby, northern England. "We may not leave the EU at all," she said. "The only certainty would be uncertainty."
EU Says It Has 'Offered Ideas' on Irish Backstop (12:10 p.m.)
Asked about Prime Minister Theresa May's effort to shift the Brexit blame onto the European Union, the EU executive in Brussels said it "has offered ideas" on how to break the impasse over the Irish-border backstop.
"You have followed the process of negotiation and talks very closely, so you know that the EU side has offered ideas on how to give further reassurances regarding the backstop," said Alexander Winterstein, a spokesman for the European Commission, the EU executive. "Intensive work is ongoing as we speak," he told reporters in Brussels on Friday.
May Calls EU Leaders to Try to Break Impasse (11:30 a.m.)
Theresa May spoke with her counterparts in Bulgaria, Portugal and Denmark on Thursday to set out the U.K. position on the Brexit talks, her spokeswoman Alison Donnelly told reporters in London on Friday. "She will continue to engage today and over the course of the weekend" in phone calls with other EU leaders, Donnelly said.
The premier doesn't currently have plans to travel to Brussels over the weekend, Donnelly said. That's a sign that a breakthrough isn't yet in sight. Nevertheless, Donnelly said the premier still intends to hold the vote she has promised on her Brexit deal on Tuesday.
Brexiteer Says May Not Playing 'Strongest Cards' (11 a.m.)
Conservative Brexiteer Andrea Jenkyns said "it's looking highly unlikely" May will get her deal through Parliament next week unless there is movement around the contentious Irish backstop issue.
Speaking to Bloomberg TV, Jenkyns said she still hoped the EU would offer further concessions as the deadline to Brexit day nears, but that the U.K. hasn't been playing its "strongest cards."
"We've seen the way the EU operated with Greece. They said they wouldn't give any more money in a bailout and then in the final weekend, the final 24 hours, they came up with something," she said. "It's whoever blinks first, and unfortunately we've blinked first every time."
Barclay to Give Committee Evidence Before Vote (10:30 a.m.)
Brexit Secretary Steve Barclay will take questions from the House of Commons Committee on Exiting the European Union at 4 p.m. on Monday, according to an Parliament email, ahead of the key vote Tuesday on May's Brexit deal.
Barclay canceled an appearance this week due to talks with the EU in Brussels, and committee chairman Hilary Benn used a parliamentary session on Wednesday to ask Speaker of the House of Commons John Bercow to intervene.
Though Bercow said he had no power to force Barclay to appear to answer lawmakers' questions, he also stressed that "it's desirable in terms of the scrutiny and accountability process" for Barclay to go before the committee. It appears he listened.
EU Calls Last-Minute Brexit meeting (10:25 a.m.)
The EU's 27 national ambassadors are convening an emergency meeting to discuss Brexit at 3 p.m. in Brussels today, an EU official said. In the behind-closed-doors discussion, the bloc's Brexit negotiators will update the envoys on the latest situation following May's speech in the U.K., with talks between the two sides looking set to roll into the weekend.
Cox Won't Be Back in Brussels on Friday (8:45 a.m.)
Attorney General Geoffrey Cox, who's leading the negotiations for the U.K., won't be heading back to Brussels on Friday, British officials said. No visit had been formally announced, but it adds to the sense that the two sides don't have much to say to each other.
While there are no plans for a trip today the situation is fluid and both Cox and Brexit Secretary Steve Barclay are ready to travel at short notice — potentially over the weekend — if necessary, the officials said.
Hunt: EU Risks Poisoning Relations with U.K. (7:20 a.m.)
Foreign Secretary Jeremy Hunt said May has been "extremely dignified" in the way she's approached the negotiations with the EU and the bloc needs to give ground as the talks draw to a close.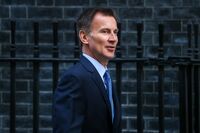 "History will judge both sides very badly if we get this wrong, we want to remain the best of friends with the EU — that means getting this agreement through in a way that doesn't inject poison into our relations for many years to come,'' Hunt told BBC Radio 4.
He said the EU needs to be "flexible" and to understand that British negotiators are making a very clear request for clarity on the Irish border backstop to get the deal through a vote in the House of Commons. "If this ends in acrimony, people will say the EU got this moment wrong and I really hope they don't."