(BBG) French presidential candidate Marine Le Pen sought to soften her position on Europe, insisting she feels European and "understands" the concerns of many French that their savings could lose value should the country return to the franc.
In an interview on TF1, France's most-watched television station, the National Front's Le Pen refused to be pinned down on whether she actually wanted to leave the euro, a position she's championed in a campaign that up to now she's focused on opposition to the European Union and immigration.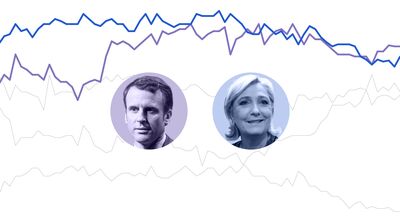 Le Pen will face independent centrist Emmanuel Macron in May 7 runoff with polls showing he'll win easily unless she can persuade the majority of voters who didn't back her in the first round Sunday. Her platform calls for pulling out of the euro but in speeches and interviews she's often softened her views, as surveys show more than two-thirds of the French don't want to return to a national currency that risks losing value. Tuesday night, she avoided some of the incendiary attacks she made on the EU during the campaign.
"I am not an adversary of Europe," she said Tuesday. "I feel French first, of course, but I'm also European."
Le Pen said in the TF1 interview that the euro has been a "weight" on the French economy and has led to an "explosion in prices," but she evaded repeated questions, simply saying she'd negotiate with the EU for France to regain more control over its economy and then put the results to a referendum.
"I want to convince the European Union to negotiate," she said. "Whatever happens, the French will get the final say."
'Final Say'
Polls suggest Le Pen will lose the runoff to Macron by about 20 points, and her anti-euro positions are the main impediments to her winning the support of those who voted in the first round for candidates such as third-place Francois Fillon of the center-right The Republicans party.
"The economic side of her program scares some conservatives and retirees who are otherwise open to her discussion on identity and immigration," said Nicolas Lebourg, a researcher in politics at the University of Montpellier.
Macron will be guest on the same interview show Thursday night, and Le Pen took aim at him tonight, saying the election was a choice between "savage globalization and a society that protects, that regulates the excesses of our economy, that controls our borders."
"Macron is the France that submits: to the markets, to the Germans, to NATO," she said.
Macron holds a rally in the northern city of Arras Wednesday while Le Pen campaigns in Nice on Thursday.