(BBG) It's vacation time in France, and the fleets of buses plying the nation's highways suggest President Emmanuel Macron's earliest effort to shake up the economy is catching on.
Cheaper and less glamorous than France's celebrated high-speed trains, buses are hauling ever more travelers. That's after Macron, then the economy minister, pushed through a law two years ago allowing passenger buses to operate on longer routes formerly reserved for trains.
"Before these buses existed, I'd probably have had to call my mum and ask for her to pay for the trip," said Odile Thiebaut, who on Monday traveled the 150 kilometers (93 miles) from Paris to Reims, in the champagne region. Her one-way fare was only 9 euros ($11), about a third as much as a train ticket.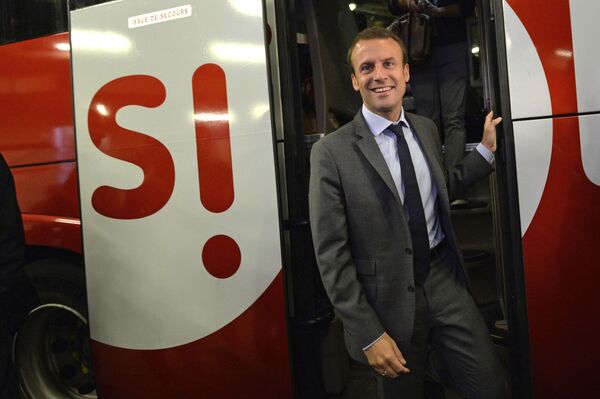 Since sweeping to power in May, the 39-year-old Macron has raised the hopes of business leaders by pledging deeper changes, from loosening labor rules to cutting corporate taxes. He's also championed startups to harness French technological prowess and shake up staid industries. His early experiment with transport provides a glimpse of the benefits of reform, and the limits of disruption in a country notoriously averse to change.
The measure liberalizing intercity bus services was part of a package of changes known as "Macron's law," which took effect in August 2015, more than a year before the former investment banker began his improbable bid for the Elysee Palace. Until then, the SNCFnational railroad had a grip on all domestic ground routes of more than 100 kilometers. Macron had initially sought to open up more areas of the economy bound by special rules, including notaries and pharmacists—with a law that some nicknamed "the omnibus"— but backed off after intense lobbying.
"Some people saw in the bus liberalization a signal for the beginning of a larger reform of competition law and protected corporate bodies," said Ludovic Subran, chief economist at Euler Hermes in Paris. "This is what helped Macron gain stardom at the beginning, notably with foreign investors and the right."
Many travelers are embracing the so-called Macron buses for their low fares. There were some 6.2 million passengers in 2016, and bookings climbed 25 percent in the first quarter of this year, according to the most recent figures from French regulator Arafer.
While that's a fraction of the 100 million or so high-speed train passengers, the buses are forcing SNCF to offer deeper discounts, while also competing with car-sharing services like Comuto SA's BlaBlaCar. The rapid increase in bus passengers—which could reach 25 million by 2030, according to France Strategie, a government group that conducts economic research—is occurring as the state-owned rail operator is already struggling with its debt and running two out of three high-speed trains at a loss.
Birth to Death
Yet the budding bus industry is hardly a miracle in the making. The sector employs about 2,100 people, according to France Strategie. That's a fraction of the 22,000 jobs Macron predicted could be created by 2025.
The number of major bus service providers has already dwindled to three from five, and, in a strangely French twist, two of the survivors are government owned. None is profitable. In a country where long-distance services didn't exist, there's a lack of proper bus stations even in major cities like Paris.
Still, the turbulence Macron unleashed, leading to "the birth and death of new companies," is a normal sign of free market competition, said Marc Ivaldi, a professor at the Toulouse School of Economics. "As for whether this will be a symbol of Emmanuel Macron's approach, I don't know."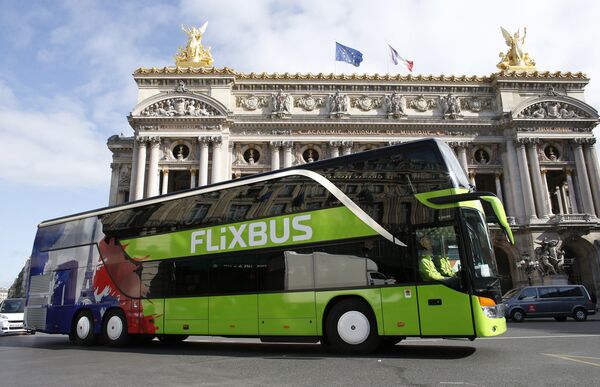 The largest and only private bus operator is Flixbus, which is based in Munich and was founded in 2013 when Germany deregulated its own market. Next is Ouibus, owned by SNCF. And third is Isilines, a unit of Transdev, which is controlled by state holding company Caisse des Depots et Consignations.
Flixbus and Isilines say they expect to be profitable in 2018, and Ouibus in 2019. To make that happen, they've been raising prices and further increases are likely. Flixbus and Isilines don't own their own fleets, but rather provide booking and after-sale services and work with local bus companies.
"It's a weak margin business," said Yvan Lefranc-Morin, the head of Flixbus France, who added that "overall, we are very satisfied that the market developed so quickly." Bookings increased 80 percent in the first half of 2017, he said. "I hope Macron's future reforms will be driven by the same philosophy and really open the markets."
Recent actions by the government have cast doubt on how far Macron will go in liberalizing the economy and breaking with France's tradition of dirigisme. The new president twisted the arms of automakers PSA Group and Renault SA to save a struggling car-parts maker and decided to nationalize the 155-year-old STX France shipyard, at least temporarily, toprevent Italy from gaining control.
Read more: Macron Nationalizes Shipyard, Spooking Outsiders
If the bus reform is any indication of the future, Macron's changes may be more piecemeal than sweeping. "He's understood that France is ready for reforms, but that it should be done in a homoeopathic dose rather than electroshock," said Subran.
Thiebaut and her fellow bus passengers aren't in a rush. The ride to Reims—with air conditioning, reclining seats and wifi—took about 2 hours, compared with 50 minutes by rail. Although buses are often half empty, this one was packed. "It's a good deal and I've met interesting people," she said.