(BBG) Emilio Saracho set aside his career as a top JPMorgan & Chase Co. executive for Europe, Middle East and Africa operations to return to his Spanish homeland for a new challenge — one that would prove to be his match.
As the 61-year-old investment banker left London to take the helm of Banco Popular Espanol SA in February, the lender's troubles, from a plunging stock price to weakening liquidity, were mounting by the day. With an impeccable resume that featured Banco Santander SA and Goldman Sachs Group Inc., Saracho was seen by Popular as the right person to reverse its fortunes. For Saracho, the gambit came with a 4 million euro ($4.5 million) hiring bonus.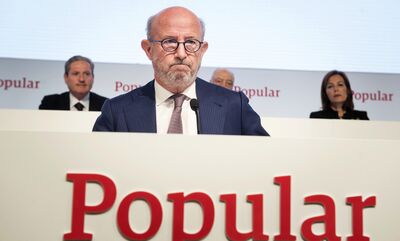 Less than four months later, his tenure ended with a forced fire sale of what was Spain's sixth-largest bank by assets.
On Wednesday, Banco Santander stepped in to take over Popular for 1 euro, leaving stock and bondholders with losses of about 3.3 billion euros after regulators — saying the bank was failing — sought a rescue that would avoid a taxpayer bailout. Santander Chairman Ana Botin named Chief Financial Officer Jose Cantera to replace Saracho as chairman of what is now its Popular unit.
Saracho was done in by obstacles that were "simply too many and too great," said Juan Ignacio Sanz, a professor of banking and stock markets at Esade business school in Barcelona.
'Best Matador'
"Not even the best matador would have been able to tackle this bull," Sanz said. "Had Saracho known about the complexity of Popular's situation, he probably would not have accepted the job."
The forced sale is the first major action by the European Union's Single Resolution Board, set up in January 2015 to oversee euro-area bank failures and wind them down with minimal harm to taxpayers and financial stability.
Popular's patchy communication with investors, customers and the press, which led to continuing share losses, made it more difficult for the bank to find a buyer earlier or carry out a rights issue, said people familiar with the matter, who asked not to be identified because those efforts weren't public.
Saracho — who also sits on the board of Inditex SA, the world's largest clothing retailer, and IAG SA, the owner of British Airways and its Spanish division, Iberia — declined to comment on his work at the bank. A representative for Popular also declined to comment.
At the bank's annual meeting in April, Saracho said the lender needed to raise still more capital to repair its balance sheet. Shares plunged on his comments, putting more pressure on the bank's investors and elevating concerns about its financial viability. By Tuesday, the last day of trading for the bank, its shares had fallen 65 percent this year to 32 euro cents.
Shareholders Suffer
The bank may still face lawsuits by both institutional and retail investors who participated in a 2.5 billion-euro rights offer last year under the leadership of former Chairman Angel Ron and whose equity has now been wiped out.
"Shareholders have suffered and will suffer a lot from Saracho's decisions," Sanz of Esade said. "He did one thing right, which was to protect customers from losing their assets, and that is something to be applauded."
He could have formed a good team with former Popular Chief Executive Officer Pedro Larena, combining his own investment banking experience with Larena's retail banking know-how, according to Sanz. He said Larena's departure in April, citing personal reasons, made fixing the business even more difficult for Saracho.
"While Saracho has a solid track record in corporate transactions, by the time he joined Popular, it was too late and the bank was too weak," Sanz said.