(BBG) The U.S. House passed legislation that would expand economic and human-rights sanctions against North Korea as President Donald Trump's administration is pledging to consider all options to rein in leader Kim Jong Un's nuclear arms ambitions.
The measure, which won resounding approval Thursday on a vote of 419 to 1, seeks to halt money from flowing into North Korea, crack down on shipping by the country and limit its use of international ports. It would sanction employers and block imports of goods produced by North Korean forced labor, and give the Trump administration 90 days to assess whether the country should be branded a state sponsor of terrorism.
"North Korea does in fact pose an immediate threat to the national security of the United States and our allies," Representative Ed Royce, chairman of the Foreign Affairs Committee, said during House floor debate Tuesday. "Pyongyang is marching towards the day when it will have the capability of striking all 50 states with an ICBM," an intercontinental ballistic missile.
The isolated regime, and Kim's desire to attain a missile capable of delivering a nuclear weapon to the U.S. mainland, has proven a vexing issue for U.S. policy makers. Trump has attempted to enlist China, North Korea's neighbor and chief trade partner, in the effort.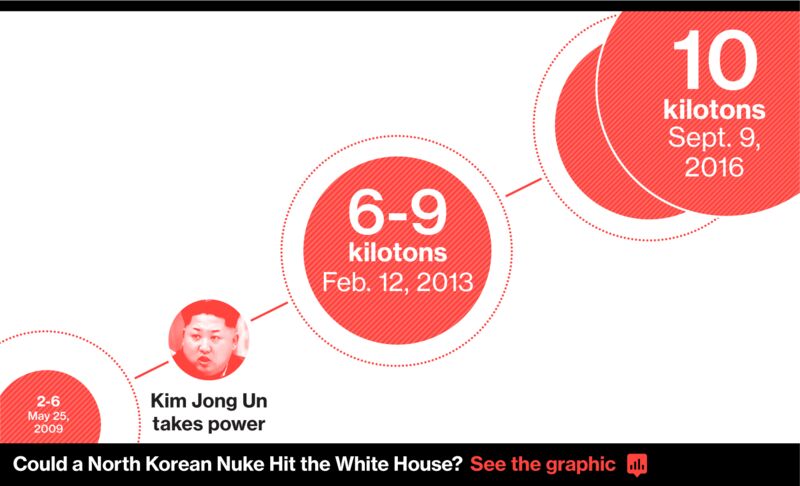 Trump said in an interview Monday with Bloomberg News that he would be open to meeting with the North Korean leader "under the right circumstances." White House Press Secretary Sean Spicer told reporters that "clearly conditions are not there right now" for a meeting.
"If he does a nuclear test, I will not be happy," Trump said in an interview that aired Sunday on CBS's "Face the Nation."
North Korea conducted a missile test hours after U.S. Secretary of State Rex Tillerson mounted an effort at the United Nations on Friday to rally pressure against Kim's regime. Trump has threatened to act unilaterally against North Korea if China fails to do more to curb its neighbor's activities.
Royce has said North Korea has evaded existing sanctions imposed on Kim by President Barack Obama in July 2016.
Royce's bill, which now goes to the Senate, would require banks to ensure their accounts aren't being used in transactions involving sanctioned entities. It would bar ships and aircraft from using U.S. ports if their port of origin hasn't complied with United Nations inspection requirements on shipments to and from North Korea.
The State Department would be required to determine whether foreign employers of North Koreans should be sanctioned for human trafficking. Imports of goods produced by North Koreans would be blocked unless the U.S. determines they weren't the product of forced labor.
Harry Kazianis, director of defense studies at the Center For the National Interest, a foreign policy group founded by the late President Richard Nixon, said there's a danger the situation could escalate. The last thing China would want is a regime that creates additional instability in the region, and unilateral U.S. military action isn't likely, he said.
The bill, H.R. 1644, doesn't go far enough, said Kazianis, who called for secondary sanctions targeted specifically at North Korea's nuclear program. The U.S. needs to consider opening a direct line of communication with North Korea rather than relying on go-betweens, he said.
"I don't think you'll see things get to the point anytime in the near future where you have a breakthrough moment or Donald Trump goes to Pyongyang, but at least we can have someone to talk to," Kazianis said.