(BBG) Poland's government is having a hard time coming to grips with economic growth that fell far short of the level it targeted last year.
With gross domestic product set for its first sub-3 percent gain since 2013, Deputy Prime Minister Mateusz Morawiecki said last week that Poland's expansion in 2014 and 2015 should be revised downward because of "fictitious" exports of electronic equipment related to value-added-tax fraud.
That could have inflated output by 30 billion zloty ($7.4 billion) — or almost 2 percent of GDP — in each of those two years, resulting in an unfavorable comparison for 2016, according to Morawiecki, who also serves as finance minister in the Law & Justice party-led cabinet.
GDP added 2.7 percent last year, down from 3.9 percent in 2015 and 3.3 percent in 2014, according to the median of 22 estimates in a Bloomberg survey. The Central Statistical Office in Warsaw is scheduled to release the data at 10 a.m. on Tuesday. As recently as in May, officials were predicting growth in excess of 4 percent for 2016 and at 5 percent this year. Fourth-quarter figures are due to be published Feb. 14.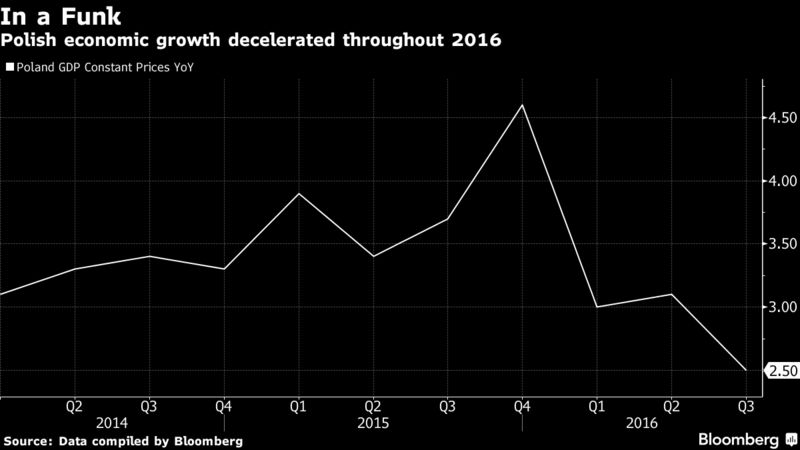 "Giving any estimate on a possible revision of GDP figures without hard data is neither possible nor does it make any sense," said Jaroslaw Janecki, chief economist at Societe Generale SA in Warsaw. "And by the way, doubting the motives of the previous government can be a mistake."
The zloty, the best-performing currency in developing Europe this year, gained 0.1 percent to 4.3319 per euro at 10:14 a.m. in Warsaw. It has strengthened 1.7 percent in 2017.
The wrangling risks turning the country's economic statistics into the latest battleground between the ruling right-wing party and Civic Platform, Poland's dominant political force for almost a decade until it was unseated in 2015.
It also smacks of the approach in developing nations like Turkey, whose statistics agency last month reworked data series to show GDP expanded much faster than initially thought in the years after the financial crisis, appearing to vindicate unconventional policies pursued by President Recep Tayyip Erdogan. In Venezuela, the central bank stopped publishing key economic figures in recent years as authorities contest reports of hyperinflation during a severe recession.
Trading Blame
Morawiecki, who formerly ran the Polish business of Banco Santander SA, has blamed the previous administration for favoring foreign investors at the expense of domestic companies. Law & Justice swept into power by also accusing its predecessor of betraying national interests and pursuing development that sacrificed the wellbeing of regular people.
Now Morawiecki says Civic Platform turned a blind eye to fraudulent VAT operations, with tax returns submitted for goods that were never exported. As the primary example, Morawiecki pointed to alleged shipments of mobile phones, which aren't even manufactured in Poland. That overstated economic gains in 2014-2015, the thinking goes, which in turn exaggerated last year's slowdown.
A team of experts from the Polish central bank, the Finance Ministry and the statistics office will be working on reviewing GDP data, Deputy Finance Minister Leszek Skiba said, declining to give a time-frame for when the work will be completed. The Central Statistical Office first needs to see any new data provided by the ministry to decide whether a revision is warranted, according to its spokeswoman, Karolina Dawidziuk.
Missing Billions
VAT avoidance has long plagued the European Union's former communist east as a result of corruption, bureaucracy and fraud. PricewaterhouseCoopers LLP estimated last year that Poland alone collected 12 billion euros ($12.8 billion) less than it should have in 2015.
Meanwhile, the reliability of Poland's GDP data is rated below that of its peers including Slovakia and the Czech Republic, according to London-based research firm World Economics, which ranks 154 countries in its Data Quality Index.
But while VAT fraud dents budget revenue, it has little impact on GDP, according to Citigroup Inc. And by raising questions about economic figures for 2015, the Finance Ministry is similarly putting in doubt last year's data, Societe Generale's Janecki said.
"If some exports were indeed fictitious and aimed at extorting VAT, goods were sold locally," said Piotr Kalisz, a Warsaw-based senior economist at Citigroup's Bank Handlowy. "This implies that instead of higher exports, we had higher consumption or investment but no change in GDP."
Investment, Taxes
What's less in dispute is that slumping investment tripped up the economy last year. Law & Justice further rattled businesses by imposing new taxes on banks and retailers.
GDP probably expanded an annual 2.3 percent in the last three months of 2016, with growth set to accelerate this quarter and next for an increase of 3 percent in 2017, according to analysts polled by Bloomberg. The government and the central bank are more upbeat, seeing a gain of 3.6 percent this year.
"The soft patch in the second half of 2016 is temporary," said Rafal Benecki, chief economist at ING Bank Slaski SA in Warsaw. "The key component responsible for the temporary GDP slowdown was investments. We see high a probability of public outlays re-accelerating in 2017."