(BBG)
In one fell swoop, Portugal and Ireland completed a quarter of their refinancing for the year.
The two nations sold 4 billion euros ($4.6 billion) of bonds each via syndication Wednesday, compared with Portugal's 15.4 billion euro target for 2019 and Ireland's goal of between 14 and 18 billion euros. That follows banks underwriting around 21 percent of Belgium's target issuance Tuesday.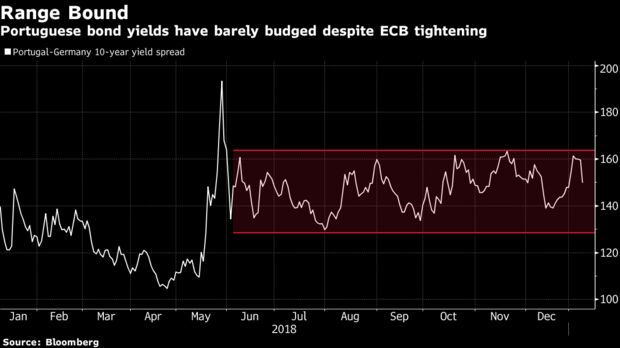 Orders for Ireland's 10-year syndication were above 18 billion euros, while those on Portugal's were above 24 billion euros, according to people familiar with the matter. That's despite European nations offering more than 30 billion euros in debt this week alone.
The robust demand for the bonds shows conviction among investors that the European Central Bank isn't going to be able to raise borrowing costs against a backdrop of slowing economic growth and recession fears in the U.S. Their skepticism is also reflected in the yield on German bunds, which touched the lowest level in more than two years last week.
"The New Year has unleashed pent-up demand for sovereign and agency paper on the primary market, and we think this is set to continue," said Ciaran O'Hagan, head of European rates strategy at Societe Generale SA. "The drive lower in yields has forced buyers out into the market."