..It seems to have become a pattern…
—
(BBG) The runner-up in Slovakia's inconclusive elections vowed to negotiate with five other parties to create a ruling coalition that will exclude Prime Minister Robert Fico's Smer party and avoid a new ballot.
After Smer won Saturday's election with a smaller-than-predicted result, Fico postponed a meeting with President Andrej Kiska at which the premier will receive a mandate to start coalition negotiations until Wednesday, according to the president's website. At the same time, the leader of the second-place SaS party, Robert Sulik, said he'd try to bring together six of the eight groups that made it into parliament to create a government.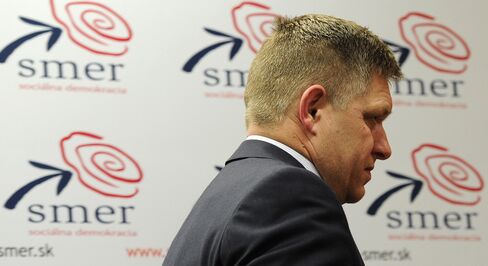 Sulik's bid underscores Fico's struggle to build a coalition after his Smer party lost its majority. The prime minister needs at least two partners from the seven other groups that made it into the assembly, which include two nationalist parties. The other parties have all rejected working with him in government, however, and if he fails to form a cabinet, the baton will pass to Sulik, a pro-business politician who fought against aid to Greece during that country's debt crisis.
"If I get a mandate from the president I want to create a broad stable coalition with 87 deputies," Sulik said on Tuesday, adding that he'll begin informal talks with the parties immediately. "I will spend as much time as possible to make sure such coalition can work."
The election serves as a warning to EU leaders who may be stoking nationalist fervor as they rail against migrants and the ills of the bloc. Fico's campaign largely ignored public discontent over underfunded public services including schools and hospitals, while his anti-refugee campaign opened the door to more extreme versions of the message. The migrant crisis is now playing out in other political struggles including the U.K.'s potential exit from the EU and Greece's economic woes, which will dominate Slovakia's six-month stint at the EU's rotating presidency in the second half of the year.
'Complicated' Result
Slovakia's benchmark 2025 bond rose for a second day, pushing the yield down one basis point to 0.47 percent. The yield has declined by about 1 percentage point from its June 2015 peak, as the European Central Bank's asset-purchase program has boosted demand for the debt at a time when the shrinking budget deficit is cutting supply.
Sulik said his SaS party would start talks with the third-placed Ordinary People, We Are Family, Siet, the Slovak National Party and the Most-Hid party, which mostly represents Slovakia's ethnic Hungarian minority. The plan depends on whether Most-Hid leader Bela Bugar can overcome his party's long-standing differences with the Slovak nationalists, who have a history of accusing Hungarians of undermining the country. Without Most-Hid, the other parties would have a fragile majority of only 76 of parliament's 150 seats, creating potential for instability.
"The party is different than how we used to know it," Sulik said of the nationalists. "For me it isn't unacceptable."
The inconclusive elections sent the record eight parties to parliament after an anti-refugee campaign by Fico shifted the focus from Slovakia's economy, which is outperforming most of its euro-area peers. Output grew 4.3 percent in the fourth quarter from a year earlier, data showed on Tuesday. The country is also benefiting from foreign direct investment, including a new 1 billion pound ($1.4 billion) car plant being built by Jaguar Land Rover that will solidify Slovakia's position as the world's biggest auto producer per capita.
While the prime minister joined neighbors Poland and Hungary in rejecting an EU plan to redistribute refugees across the bloc, most of the other parties who entered parliament campaigned even more heavily on the issue.
"Fico has virtually zero chance to succeed," said Grigorij Meseznikov, president of the Bratislava-based Institute of Public Affairs. "Given the comments of other party leaders, this is a battle already lost. Early elections can't be ruled out, and I can imagine an interim cabinet of experts in place until the end of the EU presidency."
The election's biggest surprise was the rise of the Slovak National Party and the far-right People's Party, led by Marian Kotleba, a former high-school teacher who's been indicted for inciting racial hatred. While the charges have been dropped, other parties have labeled him as an unacceptable coalition partner. Kotleba, like one of the Slovak National Party's past leaders, has praised Jozef Tiso, president of the Slovak fascist satellite state during World War II, a regime that sent tens of thousands of Jews to Nazi concentration camps.
The president snubbed Kotleba in his talks with party leaders, and the People's Party leader told Slovak media he'd be happy to act as an opposition party.