(BBG)
Saturnino, board dismissed amid revamp of state oil company
Sonangol has said lack of dollars a reason for fuel crunch
Angolan President Joao Lourenco fired Sonangol EP Chairman Carlos Saturnino as he revamps the company amid persistent fuel shortages in the southern African nation.
The presidency appointed Gaspar Martins to lead the state-owned company with a new board after incumbent members were dismissed, according to a statement late Wednesday. Lourenco met with oil industry officials on Tuesday, vowing to end shortages at gas stations across the country that imports almost all of its fuel.
Lourenco appointed Saturnino chairman in 2017 and fired Isabel dos Santos after he replaced her father, Jose Eduardo dos Santos, as president. Sonangol, long the main engine of Angola's oil-focused economy, has been at the center of the leader's vow to fight corruption. He also plans to revive crude output, which has dropped to the lowest level in more than a decade following years of under-investment in new projects.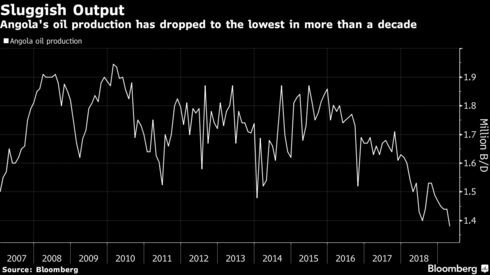 The firings appear to be driven by the fuel shortage, one of the worst in Angola's history, according to Salih Yilmaz, an analyst at Bloomberg Intelligence. "Reforms and the reorganization of the company look like steps in the right direction, though the outlook for the country's output profile remains dim," he said.
Sonangol said last week that a lack of foreign currency reserves needed to import fuel was the main reason for the shortages in the country. The presidency blamedinsufficient communication between the company and other state institutions for the supply crunch.
Oil Reforms
The government of Africa's second-biggest producer has taken measures to boost oil activity, including tax concessions to companies developing smaller fields. As part of the reforms, it has transferred the role of concessionaire of crude and gas blocks from Sonangol to the new National Agency for Petroleum, Gas and Biofuels. Sonangol is also selling companies and assets outside its core business to focus on oil.
Angola's output dropped below 1.4 million barrels a day in April from almost 1.9 million as recently as 2015, according to data compiled by Bloomberg. Production could fall to 1 million barrels a day by 2023 without more projects, Yilmaz said. French major Total SA and Italy's Eni SpA have started pumping from new areas in the past year.
The last few years have been dramatic for Saturnino. He was fired from Sonangol in 2016 by Isabel dos Santos, and was brought back by Lourenco to replace her. Angola is on the brink of a "blackout due to the lack of fuel," dos Santos tweeted on Tuesday.
Martins has served on the board of Sonangol and in various other roles, according to the company's website.