(BBG – click to see) A chronically depressed economy, rising unemployment and an aversion to free-market reforms. Sound like a familiar European tale?
But it's not Greece, Spain or Portugal. It's Finland.
As the indebted and ailing countries in the euro region's southern rim struggle out of their six-year crisis, some with more success than others, Finland is succumbing to its own.
Its economy, which has contracted every year since 2012, was the worst performer in the common-currency area in the first three quarters of 2015, according to Eurostat data. Its deficit is relatively higher than Italy's, despite being ranked fourth in the European Union in terms of how much taxes and social charges it demands from its citizens, and its unemployment rate exceeds those of its Nordic neighbors.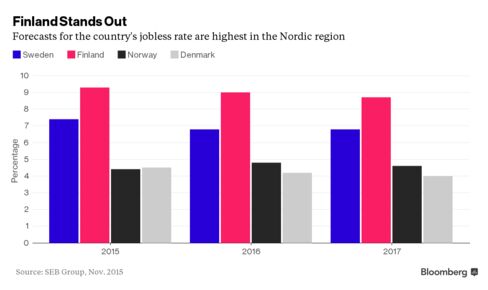 Finance Minister Alexander Stubb has started referring to his country as the latest "sick man of Europe."
"Finland has become an economy that runs on a deficit" and is "10 to 15 percent behind Sweden or Germany" in terms of competitiveness, Economy Minister Olli Rehn said in an interview this month. "That is why we must adjust."
Declining orders from neighboring Russia, a weakening of the local paper industry and the collapse of Nokia Oyj's consumer-electronics business have combined to undermine what was once one of Western Europe's strongest economies.
Angry Birds
In 2008, Nokia's share of the smartphone market topped 40 percent, paper exports were 22 percent higher, Rovio Entertainment Oy was laying the foundation for its successful Angry Birds video game and Finland was seen as a model in withstanding the global credit crunch.
Greece, Spain, Portugal and Ireland, on the other hand, were a year away from a crisis that required three bailouts totaling 581.5 billion euros ($630 billion) and dozens of all-night gatherings of officials in Brussels.
The World Economic Forum said in a recent survey that Finland has slipped from fourth to eighth place in global competitiveness. The country's wage-bargaining system is the most centralized among 140 countries surveyed. Fixing that requires profound and rapid change, the government argues. The alternative is a slide into a "southern European-style" quagmire of weak growth and low employment, Rehn says.
Helge Pedersen, chief Copenhagen economist at Scandinavia's biggest bank, Nordea, says Finland's status as "one of the poorest performing countries of the euro area" is compounded by an aging population and a particularly tough stance on immigration. With baby boomers now beginning to exit the labor market, "the sand is rapidly flowing down Finland's hourglass."
To be sure, Finland isn't about to need the kind of international bailouts that characterized the debt crisis. Nor are the measures Prime Minister Juha Sipila is proposing as draconian as what the southern countries went through.
Rehn said Finland's adjustments will amount to "about 0.5 percent of GDP per year." Portugal's recovery, by contrast, required tax hikes and cuts worth "2.5 percent of GDP per year, while in Ireland the level was about 1.5 to 2 percent," he said.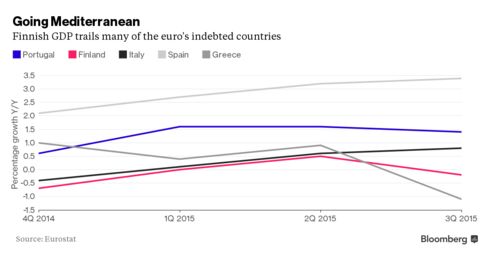 Niku Maattanen of the Research Institute of the Finnish Economy points out that while Finland's ailment is declining productivity, Portugal, Spain and Greece suffered primarily from debt-driven growth.
"We are not on the brink of collapse in the sense of becoming dependent on how international investors see us," Maattanen said.
Finland is one of the few euro-region countries that still get an AAA rating from Moody's Investors Service and Fitch Ratings, though Standard & Poor's took away the top grade in October 2014. At about 60 percent of gross domestic product, Finland's public debt is less than half that of Portugal's.
And yet, some analogies do hold.
Like its southern European partners, Finland is being asked to take on traditionally powerful trade unions as it attempts to boost competitiveness. Government plans to reduce social spending, cut the number of holidays and make it more expensive for workers to take sick leave have been met with strikes and protests.
Polarizing Risk
Antti Palola, head of the white-collar STTK, the country's second-largest union, says there is a risk that Finland will turn into a "polarized" society where "those with permanent jobs are well off" and the rest are excluded from working life. Similarly, Lauri Lyly, head of Finland's biggest trade union, SAK, says his organization will do what it can to "get rid of these initiatives," which "affect people in an unfair way."
The government is expected to push its pro-competition measures through parliament by June. While Sipila's confrontational style has rubbed the unions the wrong way and his popularity is sliding in the polls, his coalition holds 123 of parliament's 199 voting seats.
The leaders of Spain, Portugal, Ireland and Greece (twice) were thrown out of office as voters protested austerity. With national elections three years away, Sipila needs his reforms to work in time to avoid that fate.