(BBG) Investors looking at Europe's southern periphery for signs of the next blow up in the euro region might do well to turn the map upside down.
Finland, the northernmost euro member and among the harshest critics of Greece, is emerging as another weak link. Its economy is one of the region's worst performers, in part because of its failure to build a competitive labor market, and investors are beginning to shy away from a country that produced companies like Nokia Oyj and UPM-Kymmene Oyj.
Demand in a 3 billion-euro ($3.4 billion) 10-year benchmark bond sale last month was "disappointing," according to Nordea Bank AB. Finland's economy is set to contract for a fourth consecutive year, the government forecasts, prompting Nordea analyst Jan von Gerich to write last week "Oh my God, they've killed all the growth!"
"The fact that Finland is set to remain one of the laggards in the euro area as far as economic performance is concerned will probably gradually hit Finnish bonds much more than the impact seen so far," said von Gerich. "The outlook for Finnish bonds is not positive."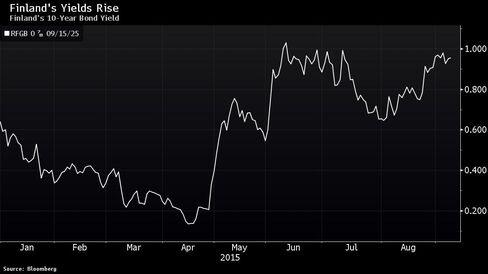 Finland was seen as haven during worst of euro region's debt crisis and about 90 percent of its bonds are held by foreign investors.
The difference, or spread, between Finland's 10-year benchmark government bond and German securities of a similar maturity has widened to 29 basis points from a single basis point six months ago. The yield on Finland's 10-year bond has risen to 0.96 percent from 0.22 percent in March.
Von Gerich at Nordea, the largest bank in the Nordic region, said the gap could head toward the level of France, whose bonds trade at 44 basis points more than those of Germany, even with the protection of the European Central Bank's intervention in the market through its quantitative easing program.
Prime Minister Juha Sipila has been a staunch ally of German-led austerity since his government came to power following elections in April, just as Greece was locked in talks over a new bailout package.
The self-made millionaire leader of the Center Party is cutting spending and raising taxes to avoid debt from swelling too much, even as key industries such as paper making and consumer electronics struggle and export demand from recession-plagued Russia slides.
Only Cyprus
Even before Sipila's government last month forecast the economy would shrink this year, the European Commission had predicted that only Cyprus would perform worse this year.
Standard & Poor's stripped Finland of its top credit grade last October, while Fitch Ratings reduced its outlook to negative in March, meaning it's more likely follow S&P because of the sluggish economy.
Finland's economy is "mired" in recession, making it less attractive than other countries considered the safest bets in the euro region, said Alan McQuaid, an economist at Merrion Capital in Dublin.
"Coupled with potential ratings downgrades in the coming weeks, point to under-performance against Dutch paper in the "core" space," said McQuaid.
"We would be selling Finland and buying the Netherlands."
Labor Costs
Some of the problems in the economy stem from an expensive labor market. Finnish costs per hour are about 20 percent above the EU average, Eurostat figures show. In the first quarter of the year, they rose by 0.7 percent, more than double the pace in the euro region as a whole, according to the Organization for Economic Cooperation and Development.
While Sipila, 54, wanted to try to reduce labor unit costs by 5 percent by 2019, talks broke down last month as unions resisted efforts to increase working hours without more pay. On Tuesday, he said two religious holidays will be converted into working days as part of his changes.
"Without big-scale reforms, it is hard to see the Finnish economy recovering its earlier vigor," said von Gerich.