(BBG) President Donald Trump is telling Middle East leaders that he intends to move the U.S. embassy in Israel to Jerusalem from Tel Aviv, a decision that risks inflaming tensions in the region and could wreck a decades-long effort toward a peace deal.
Trump called Palestinian Authority President Mahmoud Abbas and Jordan's King Abdullah on Tuesday to tell them of his decision. Both governments said Trump told their leaders that he intends to move the embassy. The White House announced the calls, but spokespeople for Trump would not say what he planned to say or immediately confirm the Palestinian and Jordanian accounts.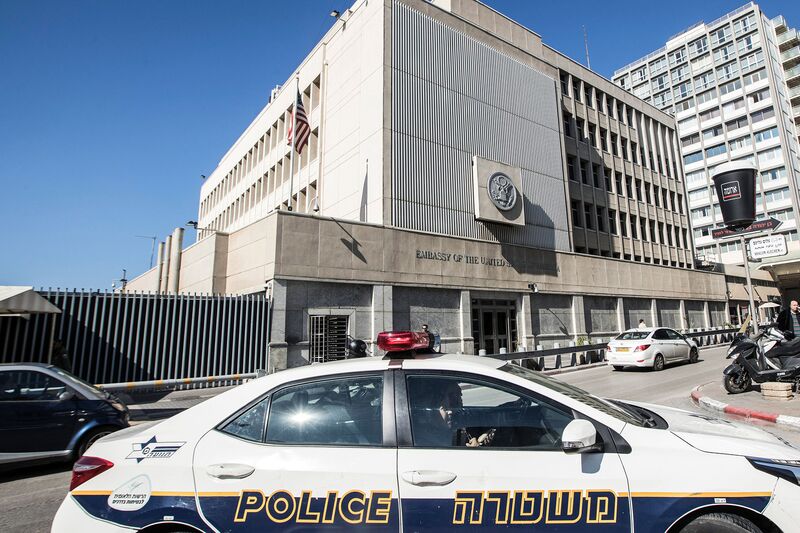 While many details about what Trump may announce remain vague, Both Abbas and Abdullah warned the U.S. president against the move, their governments said, with Abdullah saying it would "have serious implications for security and stability in the Middle East" and will "fuel the feelings of Muslims and Christians." Trump also plans to call Israeli Prime Minister Benjamin Netanyahu on Tuesday.
Turkish President Recep Tayyip Erdogan, a NATO ally, threatened on Tuesday to cut off ties with Israel if Trump goes forward with the move.
'Red Line'
"Mr. Trump, Jerusalem is a red line for Muslims," Erdogan said in a speech at parliament in Ankara on Tuesday. "This could lead us to break off our diplomatic relations with Israel."
Like many presidential candidates before him, Trump promised during his campaign to enact a 1995 law that calls for the U.S. embassy to be located in Jerusalem. The law allows presidents to postpone the move by issuing a waiver every six months, and all of Trump's predecessors did so out of concern about the strategic consequences.
It's not clear how long an actual move of the embassy would take, or if such an announcement would rule out a Palestinian role in the city.
Dennis Ross, the former negotiator on Middle East peace talks who served three U.S. presidents, said that while most participants realize Israel will always have control over the western part of Jerusalem, the Trump administration hasn't laid the groundwork for announcing such a big decision about the city as a whole.
"If you somehow move to prejudge this issue then you make it impossible for them to proceed on peace and there's always been a worry of — will there be some kind of violent reaction as well," Ross said in a briefing to reporters. "If you want the Arab states to play a role they will have to be in a position where they can say that the final status of Jerusalem can only be resolved through negotiations."
Read a QuickTake Q&A on the controversy around Jerusalem's status
But going forward with the move could yield domestic political dividends for Trump with many American Jews and evangelical Christians at a time when about 37 percent of Americans approve of his job performance, according to Gallup.
"It is, in fact, the policy of the United States, as codified in federal statute, that our government recognizes Jerusalem as the capital of the State of Israel," the Union of Orthodox Jewish Congregations of America said in a letter to Trump on Tuesday. "Jerusalem is the spiritual center of Judaism and has been the only capital city the Jewish People have ever known."
Peace Negotiations
While Israel considers all of Jerusalem to be its capital, the Palestinians desire to place the capital of their future state in East Jerusalem. Only two other countries recognize Jerusalem as the capital of Israel — Costa Rica and El Salvador — although both countries maintain their embassies in Tel Aviv. The United Nations has said the city's status must be settled in peace negotiations between Israel and the Palestinians.
Abbas warned Trump that moving the embassy would imperil his effort to restart peace talks, which has been led by his son-in-law Jared Kushner and his Mideast envoy Jason Greenblatt.
The Saudis on Tuesday called the expected move "unjustified" U.S. bias that disrupts efforts to revive peace talks, and cautioned it could have "grave consequences." French President Emmanuel Macron told Trump on Monday that the prospect of a unilateral declaration concerned him, and said the city's status must be resolved through peace talks.