(GUA) Bank rules surveillance of outgoing head of wealth management Iqbal Khan was 'wrong and disproportionate'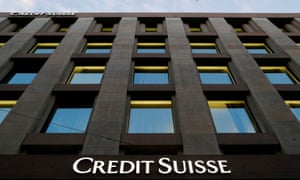 Credit Suisse has sacked its chief operating officer over an "extraordinary" James Bond-style corporate espionage scandal in which the bank hired private detectives to tail a senior executive and his wife through the streets of Zurich following a row with his boss at a cocktail party.
Switzerland's second-biggest bank said on Tuesday that Pierre-Olivier Bouée had left with immediate effect after the board of directors ruled that the seven-day spying operation was "wrong and disproportionate and has resulted in severe reputational damage to the bank".
The bank also announced that a private security consultant who had helped Bouée organise the spying had apparently killed himself. Swiss financial blog Inside Paradeplatz first reported the man's death, identifying him only as T. The man took his own life last Tuesday, according to Thomas Fingerhuth, a lawyer for the private investigative firm Investigo.
At a hastily organised press conference in Zurich, the Credit Suisse chairman, Urs Rohner, said he was "greatly saddened" by Bouée's "extraordinary" decision to hire detectives to track the movements of Iqbal Khan, its outgoing head of wealth management.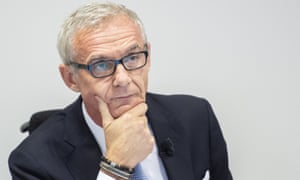 "This behaviour we do not tolerate it, [it was] extraordinary," Rohner said. "It was wrong, and it's not how we want to do business." He also expressed his deepest condolences to the family of the dead security consultant.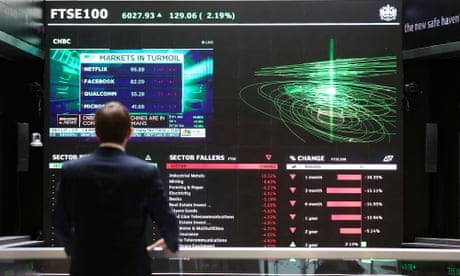 It was at the junction of Fraumünsterstrasse and Börsenstrasse near the Limmat river in the centre of Zurich on 18 September that Khan decided to find out why he kept seeing the same car following him around town.Advertisement
The star banker had noticed the car earlier as he and his wife dropped off their six-year-old child at football practice. Khan had attempted to lose the tail by driving fast and erratically through the streets of Zurich's financial capital.
As he turned into Börsenstrasse, he leaped out of the car shouting "police, police" and whipped out his phone to take photos of the car number plate and three occupants, who were later revealed to be detectives from Investigo. Swiss police confirmed they had opened "a criminal investigation into coercion/threat".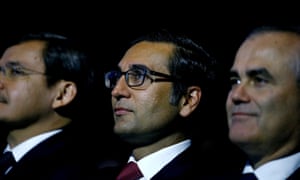 The private detectives had also followed Khan on foot, and used the encrypted messenger service Threema, which made it impossible for Homburger, the law firm that investigated the spying scandal on behalf of Credit Suisse, to discover the full extent of the covert surveillance.
Credit Suisse's board found that Bouée had ordered the detectives to follow Khan under the misguided notion that the executive might be trying to poach clients to UBS, Credit Suisse's arch-rival, which he was joining. The bank has said there is no evidence to suggest Khan was seeking to poach clients. Khan's first day at UBS following garden leaving is Tuesday.
Credit Suisse cleared its chief executive, Tidjane Thiam, of ordering Bouée to organise the spying, despite a long history of personal animosity between Thiam and Khan.
"The chief operating officer assumed responsibility for this matter and submitted his resignation to the board of directors, which has been accepted with immediate effect," the bank said. "The Homburger investigation did not identify any indication that the chief executive had approved the observation of Iqbal Khan nor that he was aware of it prior to 18 September 2019, after the observation had been aborted."
Khan, 43, was born in Pakistan and moved to Switzerland aged 12. He had long wanted to rise further up the ranks at Credit Suisse but had been frustrated by Thiam, 57.
Personal relations between Thiam, the former head of British insurer Prudential, soured further when Khan bought the house next door to his boss in the village of Herrliberg on the so-called "gold coast" of Lake Zurich. Khan had the house levelled to the ground, and rebuilt over two years with contractors often working early mornings and at weekends, leading Thiam to complain to the bank's chairman.
In an attempt at a rapprochement, in January Thiam invited Khan and his wife to a cocktail party for top colleagues and friends in the ultra-wealthy neighbourhood. But the pair had a heated argument about a row of trees Thiam had planted on his property that partially blocked Khan's view of the lake. Khan's wife had to stand between the two men to stop the dispute escalating further, according to a report by Swiss newspaper Tages-Anzeiger.