(SCMP)
As Thailand embraces democracy and heads to the polls, here are the royal family members, army generals and exiled politicians who could influence the vote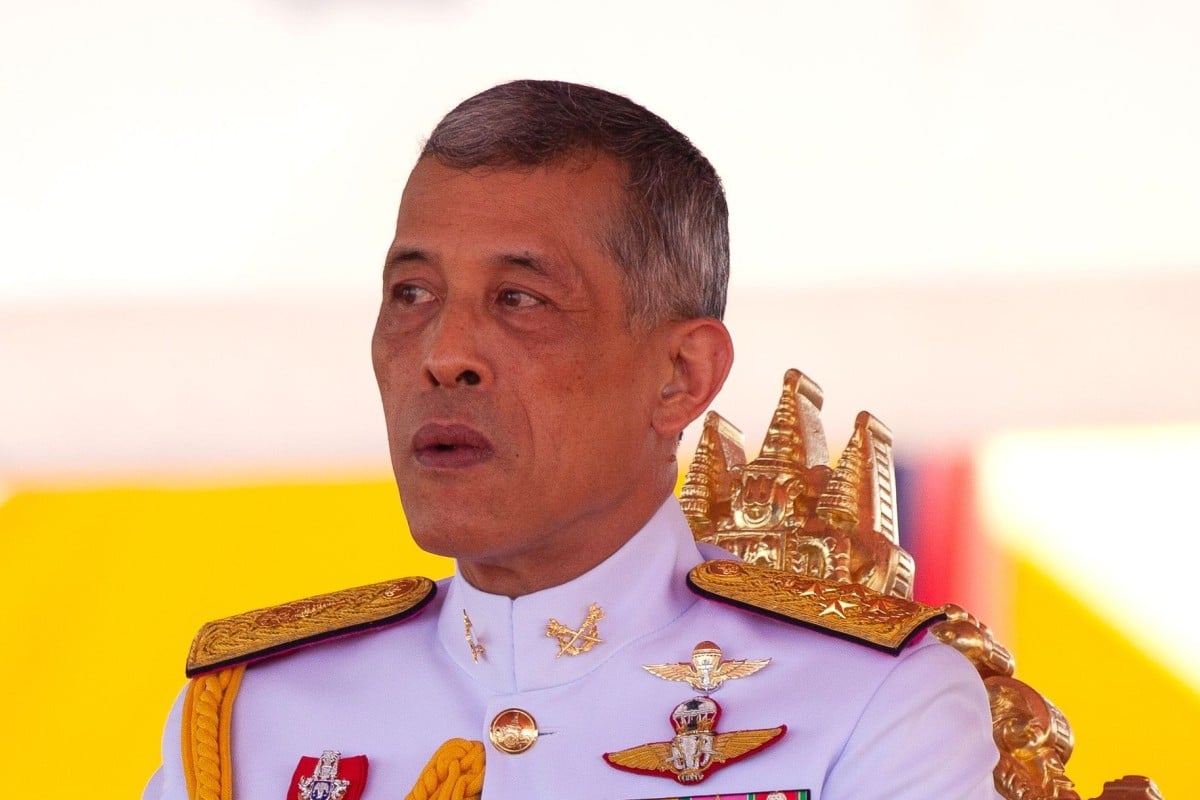 Thai King Maha Vajiralongkorn. Photo: AFP
KING MAHA VAJIRALONGKORN
Asked in a 1980 BBC interview what being a royal was like, Maha Vajiralongkorn, then 28, said he knew no other life.
"I have been born, from the first second of my life, as a prince," he said. "It is difficult to say what it's like to be a fish when you are a fish. Or what it's like to be a bird when you are a bird."Today, the king splits his time between Germany – where he lives in relative privacy – and Thailand, where he is accorded near-deity status.
When he took the reins in 2016 he faced questions about his lifestyle, and whether he could fill his father Bhumibol Adulyadej's shoes.Does King Vajiralongkorn hold all the cards in Thai politics?
Bhumibol was venerated for the stabilising role he played during his record-breaking 70-year reign.SUBSCRIBE TO SCMP TODAY: INTL EDITIONGet updates direct to your inboxSUBMITBy registering for these newsletters you agree to our T&C and Privacy Policy
Observers say Vajiralongkorn has proved his detractors wrong with his recent moves – including the swift veto of Princess Ubolratana Rajakanya's plan to enter politics.
"Before his father's death, many predicted that Vajiralongkorn, perceived as having lacked moral authority, could become a weak king," political observer Pavin Chachavalpongpun wrote last year. "He is quickly proving them wrong."
Thrice married, Vajiralongkorn is trained to fly a range of aircraft including fighter jets, helicopters and commercial jets. He saw combat in Thailand's 1970s anti-insurgency campaign.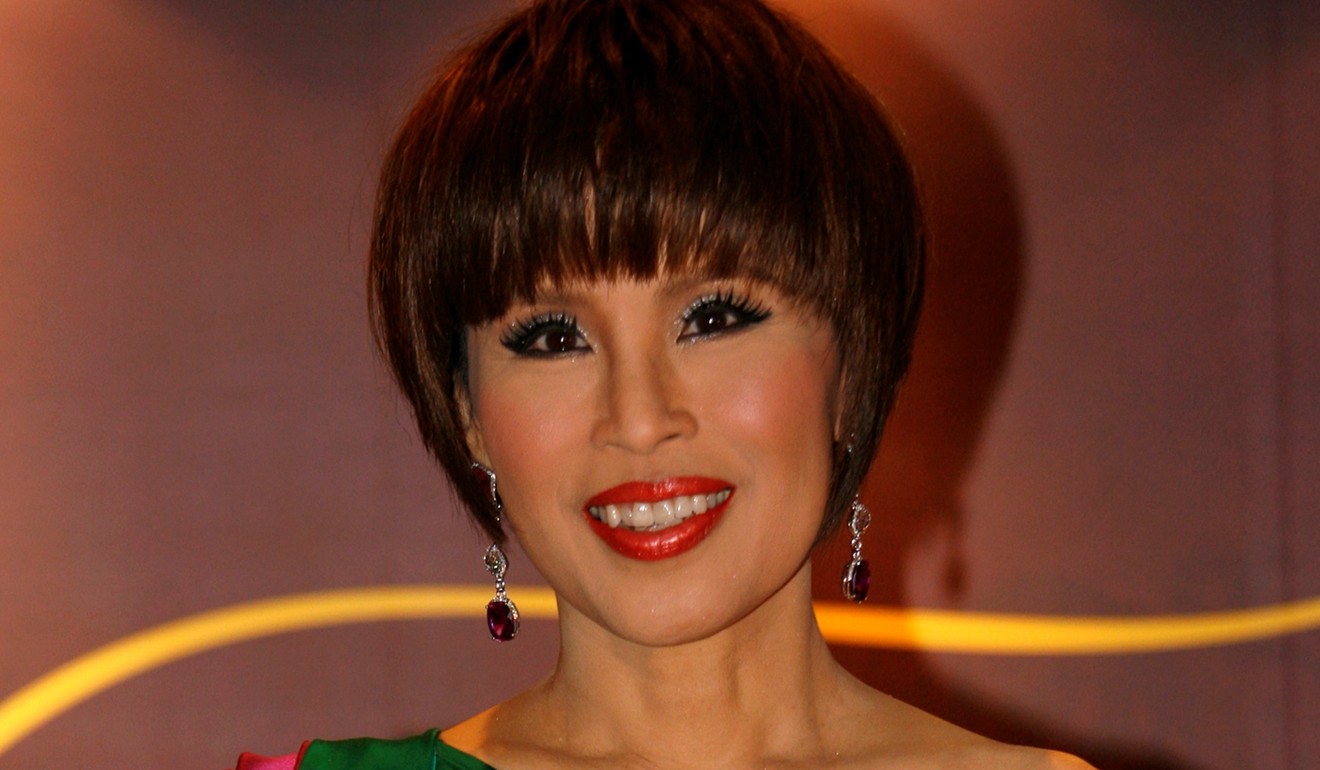 Princess Ubolratana Rajakanya. Photo: ReutersShare:
PRINCESS UBOLRATANA RAJAKANYA
The eldest of Bhumibol's four children, Ubolratana was born in Lausanne, Switzerland, while her father was a student there.
Like her law-trained father, Ubolratana excelled in school and earned degrees at the Massachusetts Institute of Technology and the University of California at Los Angeles.
She relinquished her royal titles when she married an American man in the 1970s, but upon divorcing him in the late 1990s – after raising three children in San Diego – Ubolratana returned to Thailand for good in 2001. She was bestowed the title of "Toon Kra Mom", or daughter of a reigning queen.
The 2000s were highly eventful for the princess: she launched a career as an actress – starring in television dramas including one co-starring Hong Kong actor Shawn Yue – but faced tragedy when the 2004 Asian tsunami killed her son, Poom.
Her decision to run as a candidate with the Shinawatra-aligned Thai Raksa Chart party took few observers by surprise, as she had in the past hinted she was aligned with the political bloc's "red shirt" supporters.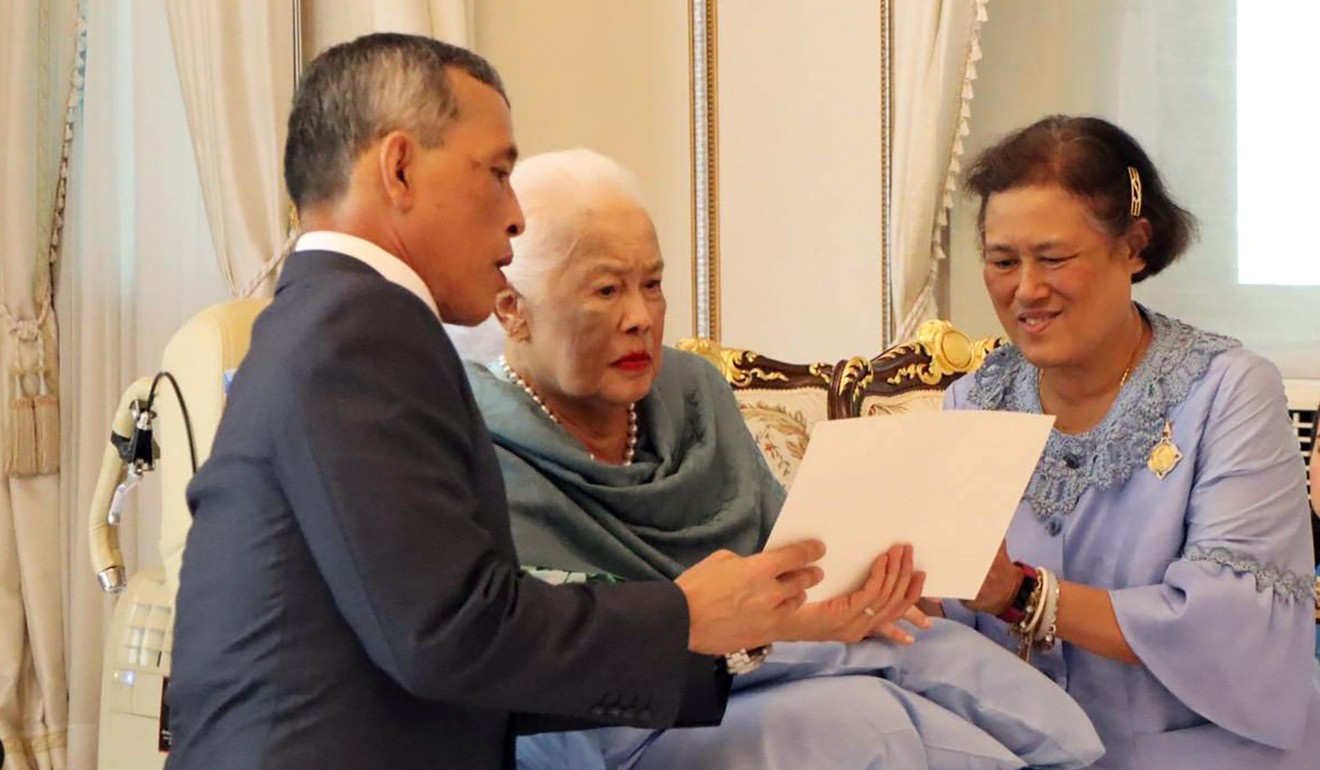 Thai King Maha Vajiralongkorn with his mother Queen Sirikit and Princess Maha Chakri Sirindhorn. Photo: EPAShare:
QUEEN SIRIKIT
Sirikit Kitiyakara, born to Thai nobility, married Bhumibol in 1950 after meeting him in Paris. Like her husband, she was venerated for her charity work in support of the kingdom's rural poor.
But in the 2000s, as the stand-off between the Shinawatra bloc and the establishment elite became more pronounced, some in the chattering class questioned – in whispers – whether she was backing the "yellow shirts" behind the scenes. Sirikit is believed to be close to the royal court's long-term power broker Prem Tinsulanonda. Nowadays she is rarely seen in public. The palace in 2016 said she had suffered an ailment that caused her to have "insufficient blood in the brain".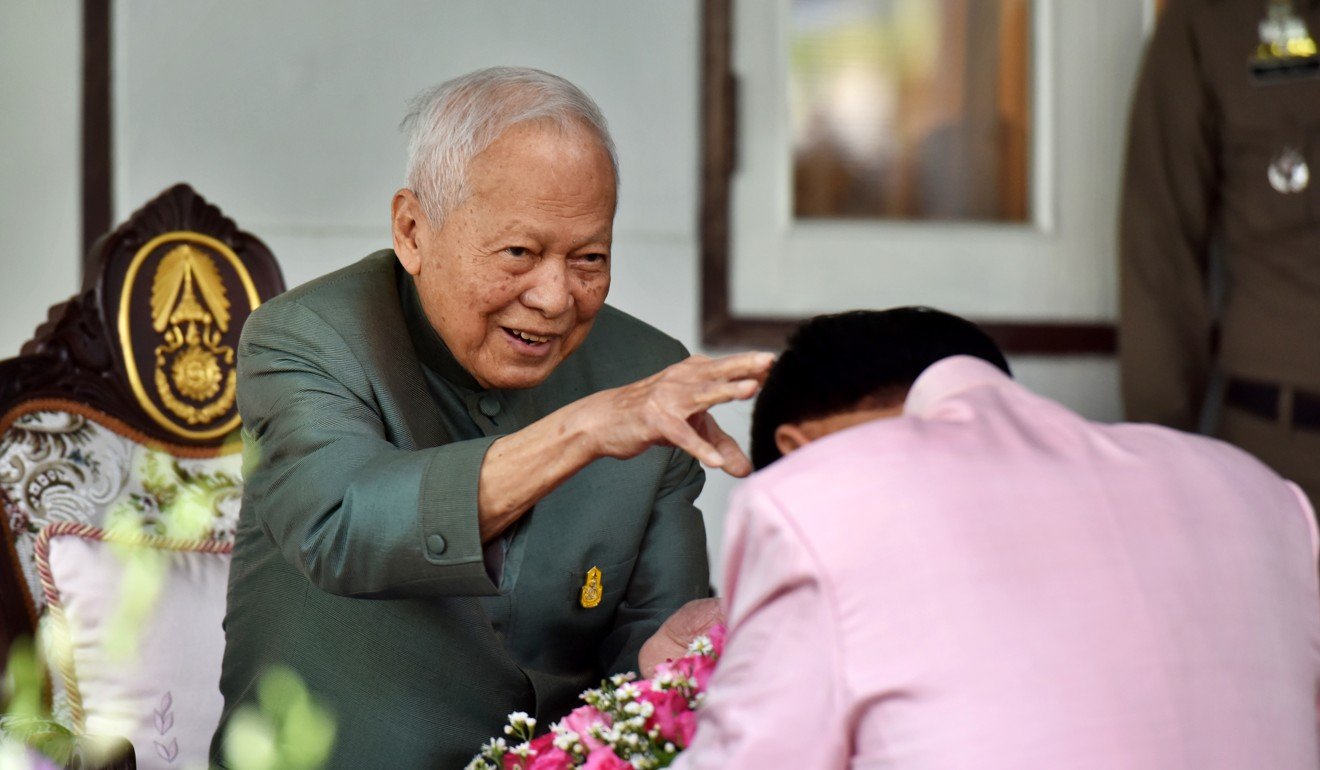 Privy Councillor Prem Tinsulanonda. Photo: AFPShare:
PREM TINSULANONDA
Prem Tinsulanonda is the president of Vajiralongkorn's Privy Council. The former army general, 98, has occupied that position for the past two decades, during which he cemented ties between the military and the royal court. He served as prime minister from 1980 to 1988, withstanding two coups and multiple assassination attempts. For many political watchers, Prem remains the face of the royalist-military establishment that reviles the Shinawatras.
While he served as a temporary regent after Bhumibol's death – before Vajiralongkorn took over – the current king in recent years has appointed his own loyalists to the Privy Council, a move some observers say is aimed at weakening his father's close confidante.
The king directed the junta to amend a newly drafted constitution that allows him to exercise sovereign powers even when abroad. Vajiralongkorn therefore does not need to appoint Prem as regent when he is in Germany.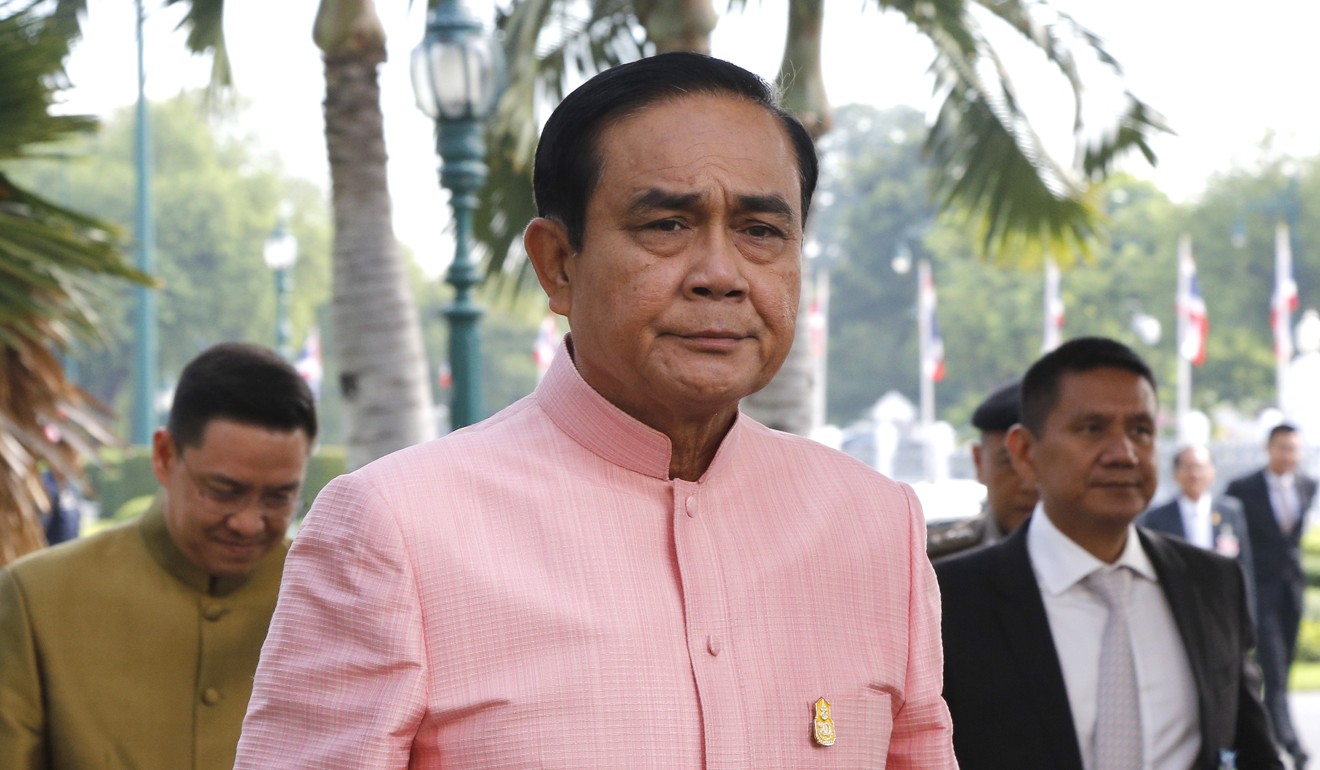 The favourite: career soldier Prayuth Chan-ocha. Photo: EPAShare:
PRAYUTH CHAN-OCHA
Career soldier Prayuth is the bookmaker's pick to be prime minister after the March 24 polls, after the candidacy of Princess Ubolratana was vetoed by King Vajiralongkorn.
The 64-year-old is the preferred prime ministerial candidate of the Palang Pracharat Party that is widely viewed as a political vehicle of the junta.
He became an internationally recognised face after orchestrating the 2014 coup against Yingluck Shinawatra – the second anti-Shinawatra coup in the past two decades. Fondly referred to as "Uncle Tu" by his supporters, the junta leader has a reputation for being testy, often skirmishing publicly with probing journalists. He is part of the "Eastern Tigers" bloc of Thailand's military, otherwise known as the Queen's Guard.
Thai army chief Apirat Kongsompong. Photo: APShare:
APIRAT KONGSOMPONG
Army chief Apirat Kongsompong is the newest key player in Thailand's Game of Thrones. The son of a former junta leader, Apirat was made army chief last September. He leads the King's Guard bloc of the country's factionalised military, which over the last two decades has been dominated by Prayuth's Eastern Tigers. Apirat, analysts say, has the backing of Vajiralongkorn.
In January he was appointed to the Crown Property Bureau, which has holdings of over US$30 billion, according to one estimate. Apirat's appointment follows Vajiralongkorn's 2017 decision to give himself full control of the bureau. The army chief last week denied widespread speculation that he and currently active generals were planning a coup against Prayuth's administration.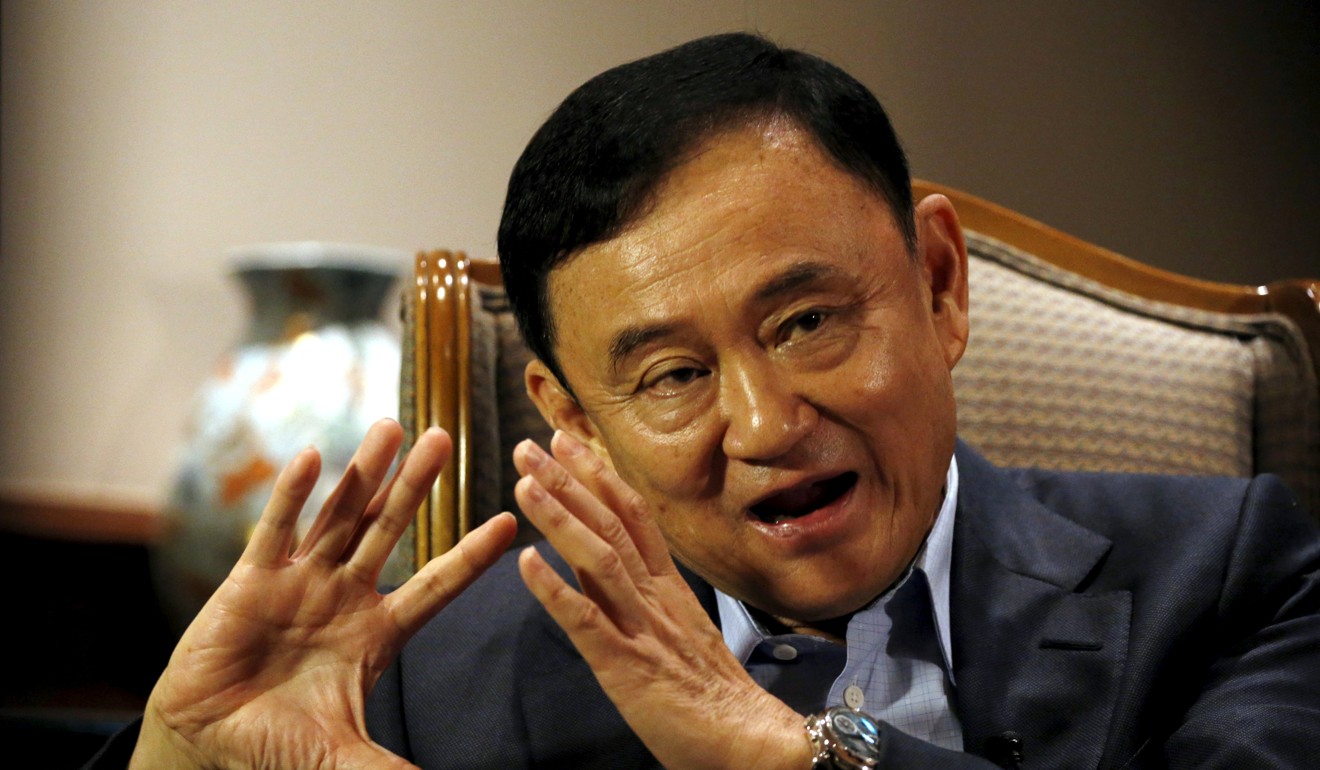 Thailand's former prime minister Thaksin Shinawatra. Photo: ReutersShare:
THAKSIN SHINAWATRA
Thaksin Shinawatra, 69, is the singular force behind Thailand's past two decades of political turmoil. He has undergone multiple career shifts – from police chief to telecoms tycoon, establishment politician, and subsequently populist prime minister. Since going into exile in 2008 – two years after the military staged a coup against him – Thaksin has pulled the strings of the rural-based political movement he started in the 2000s. The movement has won every election since 2001. In the election held after the 2006 coup, his brother-in-law Somchai Wongsawat led loyalist parties and became prime minister. After a brief period in which pro-establishment forces held power, the Shinawatras again returned to the apex of power – this time with Thaksin's sister Yingluck as prime minister. It was her government that was toppled in Prayuth's 2014 coup.
While his loyalists paint him as a champion of the poor – pitted against the pro-establishment metropolitan elite – Thaksin's critics want him out of politics because they say he is corrupt and perpetuated cronyism during his time in power. Some of his critics say he is anti-royalist.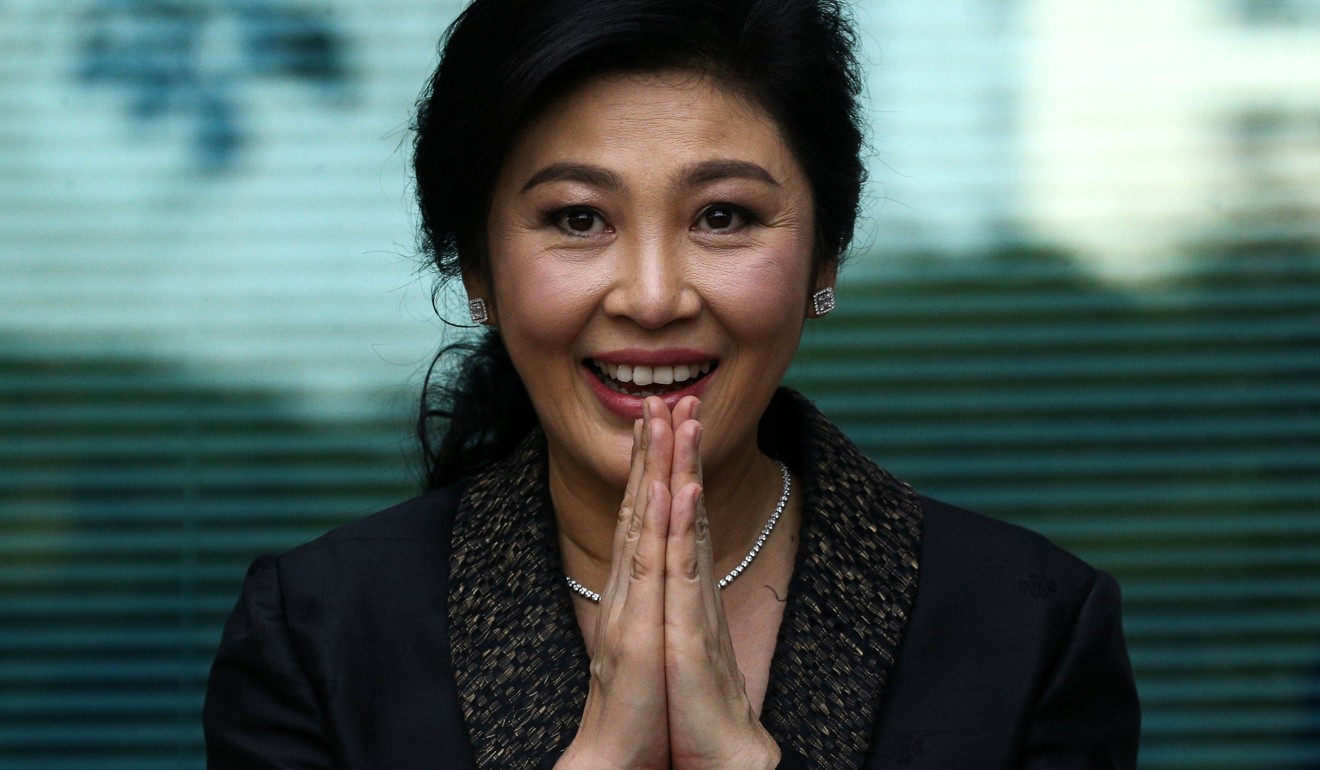 Thailand's former prime minister Yingluck Shinawatra. Photo: ReutersShare:
YINGLUCK SHINAWATRA
A mere puppet or able deputy? The 51-year-old younger sister of Thaksin has long faced criticism that she is merely a mouthpiece of her more famous brother. Still, with her brother in exile, it was the former businesswoman who held the fort for the Shinawatra movement in the 2011 elections. The Pheu Thai party she helmed – which is also contesting the upcoming March 24 polls – staged a crushing victory. She was prime minister for three years until Prayuth seized power from her. The military staged a coup after widespread discontent at one of Yingluck's policy moves: a proposal to grant amnesty for those found guilty of political violence in the years after her brother was ousted. It was seen as an underhanded way to allow Thaksin to return home on a clean slate.
She fled Thailand in August 2017 just before she was found guilty of "criminal negligence" while in power – a charge she says was trumped up by Prayuth's administration. ■ThailandThailand's JuntaKing Maha VajiralongkornYingluck ShinawatraRoyaltyThai King Bhumibol AdulyadejThai electionsREAD/POST COMMENTS (1)China Economy
Singapore's January exports to China collapsed in 'very worrying' development for both economies
Oil and non-oil exports from the city state to the mainland fell dramatically in the first month of the year, the biggest fall since October 2016
The decline was led by plummeting electronics sales, sparking fears of a slump in global demand
Updated: Monday, 18 Feb, 2019 4:08pm03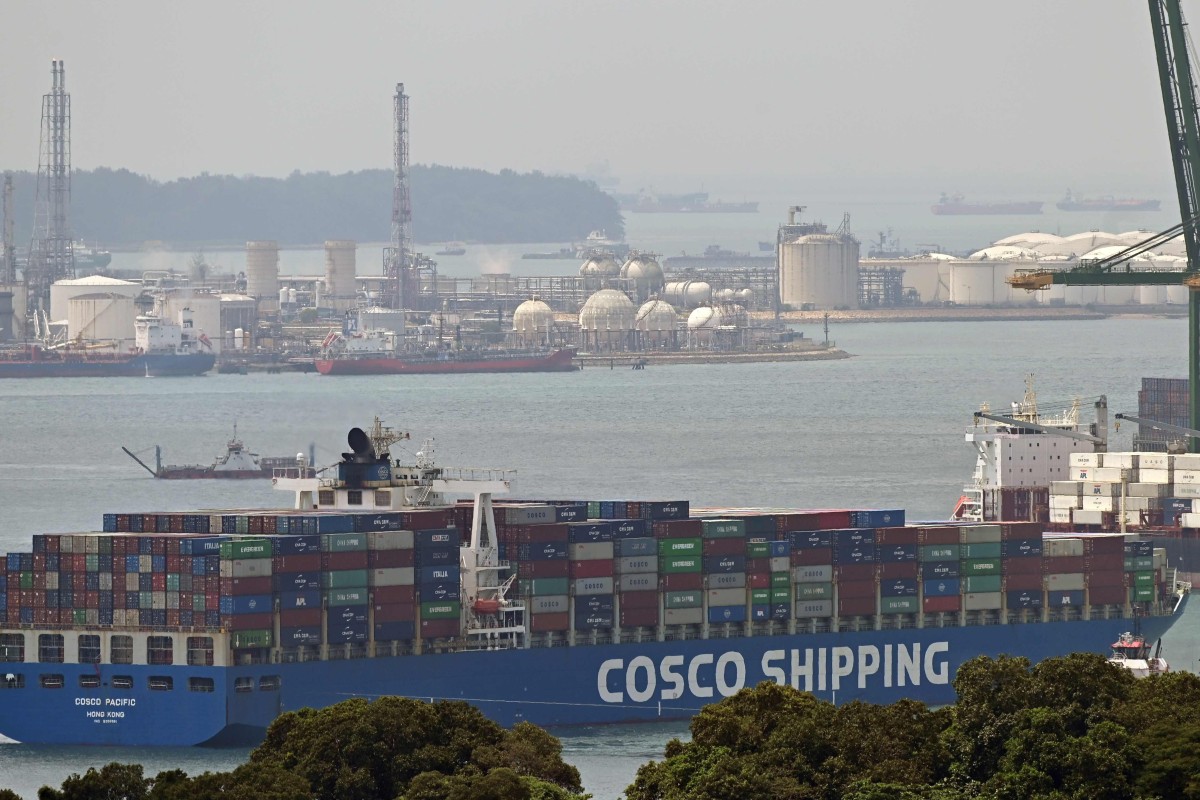 Across the board, Singapore's non-oil exports plunged 10.1 per cent in January, the third successive monthly decline, while oil exports fell by 3.2 per cent overall. Photo: AFP
Singapore is feeling the pinch of China's economic slowdown as exports to the mainland collapsed in January.
Non-oil exports to China showed a dramatic fall in January, crashing by 25.4 per cent, while Singapore's oil exports to China plummeted by 30.8 per cent, showing a broad-based decline, and sparking concern about the economic prospects of both nations.
Sales of gold to China collapsed by 94.9 per cent, while specialised machinery exports fell 55.2 per cent and measuring instruments fell 40.9 per cent.
Overall, Singapore's non-oil exports plunged 10.1 per cent in January, the third successive monthly decline, while oil exports fell by 3.2 per cent.
Robert Carnell, chief economist at ING for Asia-Pacific, said "the negative petrochemical result is very worrying".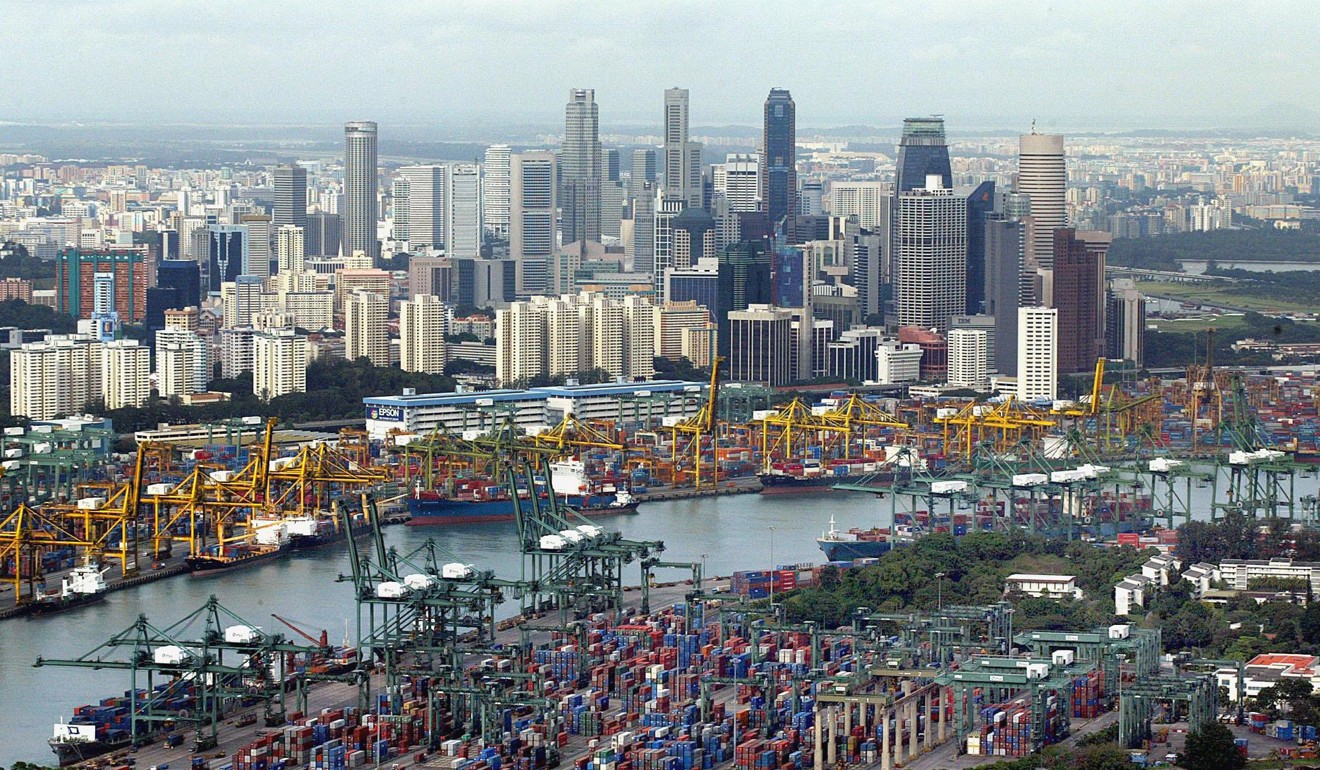 Non-oil exports to China showed a dramatic fall in January, crashing by 25.4 per cent, while Singapore's oil exports to China plummeted by 30.8 per cent. Photo: AFPShare:
"This points to a broad weakness in external demand, with these products ubiquitous in almost all production and packaging," he said.SUBSCRIBE TO SCMP TODAY: INTL EDITIONGet updates direct to your inboxSUBMITBy registering for these newsletters you agree to our T&C and Privacy Policy
Economists polled by Reuters had predicted a 1.6 per cent drop in the non-oil exports sector, showing that the situation is worse than expected.
It also marked the biggest fall off in exports since October 2016.
The non-oil decline was led by a slump in electronics exports, which, on an year-on-year basis, declined by 15.9 per cent.
Within that, there was a 34.3 per cent decrease in personal computer exports.Is Christmas cancelled for Singapore's trade war-hit companies?
Enterprise Singapore, the government agency for supporting business, put the slump down to a "high base" one year ago, while there are also seasonal issues, including the annual trend that electronics sales decline at the start of the year, as was the case in 2015, 2016 and 2018.
However, there are concerns that Singapore may be heavily exposed to an economic downturn in China, which is its second largest export partner (16 per cent) behind Hong Kong (19 per cent).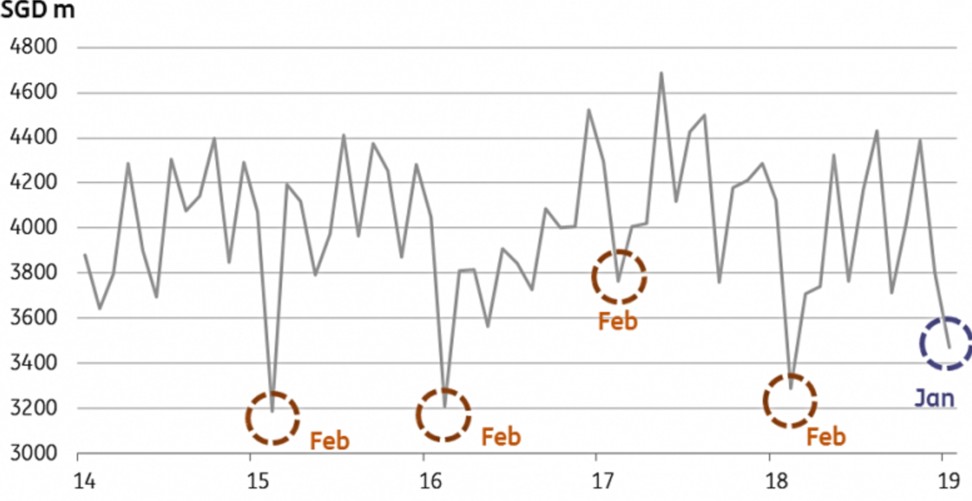 The non-oil decline was led by a slump in electronics exports, which, on an year-on-year basis, declined by 15.9 per cent. Photo: HandoutShare:
Few of the goods imported to Hong Kong are consumed in the city, with a large portion of the 75 per cent that is exported going to China.
Furthermore, Singapore's economic performance is commonly viewed as a good indicator of the health of the global trading picture, given the country's heavy reliance on imports and exports.US-China trade war hits Singapore exports
Exports of goods and services were worth 173.35 per cent of its gross domestic product (GDP) in 2017, meaning that the value of goods exported from Singapore are far more valuable than what is produced inside the country, reflecting its important status as a shipping, logistics and transshipment hub.
Data from Singapore's trade ministry released last week showed that the economy grew by 1.9 per cent year-on-year in the fourth quarter, down from the 2.4 per cent in the previous three months.
Data from Singapore's trade ministry released last week showed that the economy grew by 1.9 per cent year-on-year in the fourth quarter, down from the 2.4 per cent in the previous three months. Photo: AFPShare:
"A sharper than expected slowdown of the Chinese economy could adversely affect the region's growth due to falling import demand from China, especially given regional economies' close interlinkages with China through their participation in manufacturing and trade-related services value chains," the ministry said.
"Against this backdrop, the pace of growth in the Singapore economy is expected to slow in 2019."
Also released on Monday, Thailand's GDP growth jumped to 3.7 per cent for the final quarter of 2018, year-on-year, up from 3.2 per cent in the third quarter.
The figure beat a Bloomberg poll of economists, which predicted a rise of 3.6 per cent, but analysts said that Thailand, as with most Asian export hubs, is also vulnerable to the wider slowdown in demand.How a sharp slowdown in China could affect Asian economies
"GDP growth in Thailand picked up in quarter four, but it is likely to struggle for momentum in the quarters ahead due to weaker external demand," said Gareth Leather, senior Asia economist at Capital Economics.
"The key risk to the outlook is the possibility of unrest if the electorate feels it is being denied free and fair elections, expected to be held on March 24."
Thailand will hold general elections nearly five years after the military seized power for the second time in two decades from the country's powerful Shinawatra clan.