P.O.

In my opinion, and regardless of the ovious needs in fixing the anomalies in the Boeing737, this is an extremely smart move by IAG.
In a time in which Boeing was in a deep crisis with its main selling plane, IAG comes up with a huge order that fixes several problems n one go:
1 – To start with of an order of 24 billion dollars in face value, the press says IAG must have payed roughly half.
2 – Not bad for a discount…
3 – It solves Boeing problem of the continuation of this troubled model.
4 – Jt must have helped. Boeing, and a lot with the legal cases airlines must have surd Boeing.
5 – On antother front,IAG as far as i know is controlled by UK share holders.
By helping the US, and the US Government with this order at a particular difficult time, the UK is getting an enormous leverage with the US Government in a moment it needs all the help it can get because of Brexit.
6 – With an unconditional US support London can check mate Brussels come what may.
7 – In these kind of situations i think it makes the difference between winning and loosing.
8 – In the case i am reading these facts right, the unconditional US support would reach Brussels in less than a nanasecond.
9 – I am of the opinion, if my reasoning is correct, that the UK negociators wiuld arrive in Brussels with an "HIS Master's Voice"sound.
10 – And that would be an ideal scenario, considering that, in my opinion, the EU is almost a dictatorship.
"That's All Folks"
Francisco (Abouaf) de Curiel Marques Pereira

—

(BBC)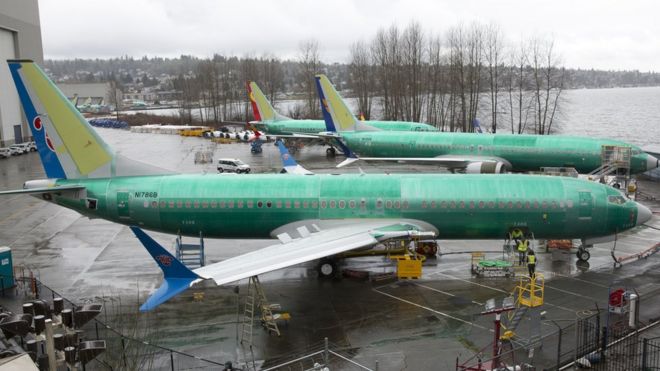 Boeing has received a boost for its grounded 737 Max jet after British Airways-owner IAG signed a letter of intent to order 200 of the planes.
The airline group said it was confident that the Boeing planes would return to service in the coming months.
Boeing is currently trying to develop a software fix for 737 Max planes after two deadly crashes.
All 737 Max planes were grounded in March after an Ethiopian Airlines flight crashed, killing 157 people.
Five months earlier, 189 people were killed when a Boeing 737 Max operated by Lion Air crashed.
---
Analysis:
By Theo Leggett, BBC business correspondent
This is not a firm order, and strictly speaking, IAG could change its mind if it wanted to – but it will still come as a huge boost for Boeing, at a show where it has been struggling to dispel the clouds hanging over its business.
The 737 Max may still be grounded – but it remains a flagship product for the American giant. It's worth remembering it is the fastest selling product in Boeing's history. It still has more than four thousand of them on order, far more than the rest of its range put together.
What IAG seems to have offered is a vote of confidence that the company will be able to make the aircraft unquestionably safe, and be able to demonstrate to regulators that it has done so, allowing it to return to market before long.
The economic reality is that airlines need the 737 Max – because of its high efficiency and low operating costs. Airbus simply cannot supply the whole market with its rival A320neo.
The deal, if it goes ahead, would be valued at $24bn (£19bn) at list prices. But the "substantial discount" negotiated by IAG's savvy chief executive Willie Walsh is likely to be very substantial indeed.
Meanwhile the announcement may help to alleviate the mood at Boeing's chalet, where it would be understandable if something of a siege mentality had developed over the past few days.
---
The planes will be used by IAG's airlines including British Airways, Vueling and Level, the airline group said in a statement. The letter of intent was signed at the Paris Air Show.
IAG chief executive Willie Walsh said: "We have every confidence in Boeing and expect that the aircraft will make a successful return to service in the coming months having received approval from the regulators".
IAG's "first priority is the safety of passengers and crew," a spokeswoman said.
Boeing shares rose more than 2.8% after the announcement.
The firm said it was "truly honoured and humbled by the leadership at International Airlines Group for placing their trust and confidence in the 737 Max".
Criticisms of the crew of the Ethiopian Airline plane that crashed in March were "seriously misinformed", the airline's chief executive Tewolde GebreMariam said after a US congressman claimed pilot error was a factor in the disaster.
This week a US Federal Aviation Administration official indicated that Boeing 737 Max aircraft might could be grounded until the end of the year – longer than many had been expecting.