P.O.
As I wrote before President Dilma Rousseff is Brazil´s biggest liability.
And the markets certainly confirm this.
Every time that the possible impeachment becomes more likely, the São Paulo Stock Exchange (Ibovespa) and the Real go up.
At the time I am writing this P.O.,  Thursday 14 April at 20.33 LIS/LON time , I rate the odds of the impeachment going through at better than 75 %.
Whether the current Administration in Brasilia likes it or not, I am of the opinion that the impeachment is a pre condition to solve Brazil's problems.
President Rousseff's Administration currently does not have any kind of credibility, and only has a residual power.
And nobody believes that President Rousseff did not know about the corruption going on at Petrobras because she was the Chairman of the company.
And also no one believes that President Rousseff did not see what was going on in plain daylight…
That her political Party was soliciting bribes…
And that there was no possible legitimate justification for the kind of life that most politicians had.
Including mansions and private jets…
It was offensive and unacceptable.
Let's hope everything turns out for the best for Brazil and for the Brazilians.
Francisco (Abouaf) de Curiel Marques Pereira
—
(BBG) Across town from where Brazilian lawmakers are deciding the fate of the country's president this weekend, car dealer Felipe Bandeira sits in an empty show room lamenting the worst sales season he can remember.
"Everybody is waiting to see what will happen on April 17," said Bandeira, who saw sales drop 40 percent this year and 100 dealership workers fired. "It's a terrible situation — most people don't have money to buy a car and those who do are torn by uncertainty."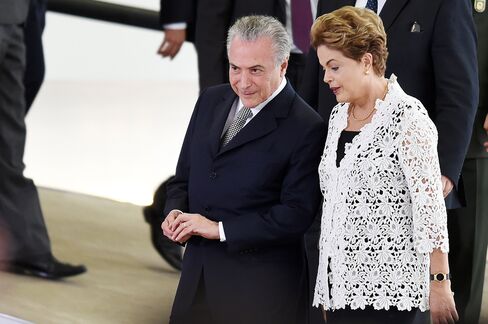 A political crisis and a two-year corruption scandal have brought Latin America's largest economy to its knees. Now the country is looking to the lower house to end the political stalemate. There legislators prepare to vote on Sunday whether to move ahead with an impeachment of President Dilma Rousseff that could end with Vice President Michel Temer taking the reins. The government is appealing in the Supreme Court to halt the vote.
While financial markets have rallied on the prospect that a business-friendly Temer administration could put the economy back on track, the reality is that Brazil is mired in its deepest recession in a century. Consumer-led growth has run out of steam, the commodities boom is long over and exporters can expect little help from China, which has its own problems. And there's little scope for stimulus measures either, given the size of Brazil's budget deficit and above-average inflation.
Too Optimistic?
"The market may be exaggerating, Temer won't necessarily fix the problems," said Andre Perfeito, chief economist at Gradual Cctvm, a Sao Paulo-based brokerage. "There are no growth engines in the economy — there's only a medium and long-term solution."
The speed of Brazil's decline has been astounding. In 2010 Brazil was a Wall Street darling, growing at 7.5 percent. Today, it's haunted by an economic depression and has lost its much-coveted investment grade rating. Alleged attempts to cover the country's budget deficit by dipping into the coffers of state-owned banks are at the heart of the impeachment drive, which has forced Rousseff to put her own economic agenda on ice.
Rising unemployment, falling wages, and the highest borrowing costs in over a decade are a bitter pill for many of the 40 million people that emerged from poverty during the boom years and had just gotten used to the comfort of owning their first car or house.
Back in Poverty
Some 3.7 million members of Brazil's middle class fell back down the social ladder in the first 11 months of last year, according to a study by Banco Bradesco SA. Average real wages in six major metropolitan areas fell last year for the first time in over a decade.
Brazil's economic outlook is actually worsening as the drive to impeach Rousseff gathers pace. Investments in Brazil have fallen for 10 consecutive quarters to 16.8 percent of gross domestic product in December of last year, roughly half of that in China. Honda Motor Co. said in March it will delay opening a plant under construction until the country emerges from its political and economic crisis.
Economists surveyed by the central bank now estimate the economy will contract 3.8 percent this year, compared with a contraction of 1 percent forecast six months earlier. On top of last year's 3.8 percent slump, that would make for Brazil's deepest recession in over a century.
Temer's Challenge
"You need to recover private sector confidence, and that's really the key to Brazil and that's what Temer's big challenge is," said Edwin Gutierrez, head of emerging-market sovereign debt at Aberdeen Asset Management in London, who oversees an $11 billion portfolio.
Still, some people began to see an opportunity in the turmoil of recent months. Luis Carlos Pereira, a wholesale food distributor, turned to peddling plastic horns and Brazilian flags at protests in Brasilia to supplement his faltering income. Business boomed, with Pereira selling almost 3,000 reais, or more than three times a monthly minimum wage, in a day.
"At first it was good money," said 56 year-old Pereira. "But with protesters having stocked up on their paraphernalia, even crisis-related sales are drying up in Brazil," he said.