(SCMP) Tsai Ing-wen's support for Hongkongers has helped propel her through her party's primaries and may bode well for her chances in the presidential election
In the long term, the Hong Kong protests, which vocalise anxieties about China shared by Taiwan, may further alienate Taipei and Beijing
Published: 9:00am, 19 Jun, 201910One of the most unintended consequences of the two massive protests in Hong Kong against the government's extradition bill is the city's emergence as a bellwether for Taiwan's 2020 presidential election.
Since Taiwan's first direct presidential election in 1996, cross-strait relations have dominated debate on the island, while Hong Kong issues have rarely been mentioned.
However, the three massive protests in the past two weeks are all related to Hong Kong's relations with Beijing. On June 4, 180,000 people attended the annual candlelight vigil in Victoria Park to mark the 30th anniversary of the Tiananmen Square crackdown. Then, over 1 million people took to the streets on June 9 and nearly 2 million came out again on June 16 to protest against the Hong Kong government's extradition bill, which if passed would allow the transfer of fugitives from Hong Kong to mainland China.These developments may have alarmed people in Taiwan, who have witnessed years of declining freedoms in Hong Kong since the handover on July 1, 1997. Many Taiwanese fear that Hong Kong today will be their tomorrow if they are forced to accept Beijing's terms for reunification.
The extradition bill has been widely opposed by legal professionals, academics, student activists and the business community. The millions who marched against the bill reflect the widespread distrust of China's judicial system and the belief that their freedom and liberties will be further curtailed, despite Beijing's promise otherwise.Taiwanese President Tsai Ing-wen, who on June 13 won the Democratic Progressive Party's (DPP) nomination to run for a second four-year term as president, and all presidential hopefuls have weighed in on the matter by scrambling to condemn Beijing and show support for Hongkongers. The main opposition Kuomintang will select its presidential nominee in a primary next month.SUBSCRIBE TO SCMP TODAY: INTL EDITIONGet updates direct to your inboxSUBMITBy registering for these newsletters you agree to our T&C and Privacy Policy
Meanwhile, thousands rallied in Taiwan on Sunday to show solidarity with the Hong Kong protesters. And, on Monday, Taiwan's legislature passed a joint statement in support of the Hong Kong protesters.Analysts said Tsai's rebuff of Chinese President Xi Jinping's statement in January on Taiwan adopting "one country, two systems" and her support for Hongkongers had helped propel her through the primary.
The "one country, two systems" framework was originally designed for Taiwan by late Chinese leader Deng Xiaoping, but first applied to Hong Kong. In demonstrations, some Hong Kong protesters carried placards that read, "'one country, two systems' is a total failure." Multiple surveys have suggested that the vast majority of Taiwanese oppose the "one country, two systems" proposal. The Hong Kong protests have given ammunition to the embattled Tsai.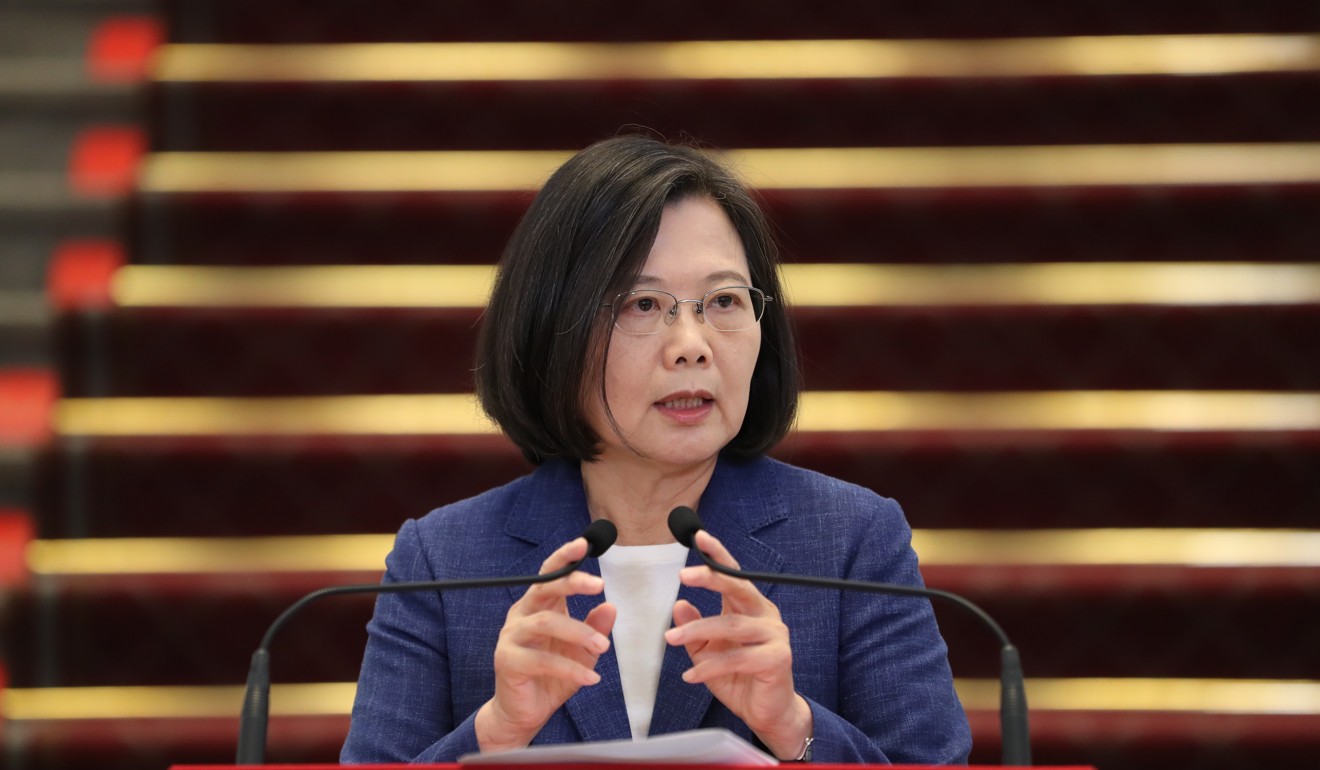 Taiwanese President Tsai Ing-wen speaks during a press conference in Taipei, on June 13. Tsai said Taiwan will not accept the "one country two systems" model proposed by China while speaking about the current situation of the protest in Hong Kong. Photo: EPA-EFEShare:The protests come amid a triangular diplomatic wrangle between the US, China and Taiwan, with Washington-Taipei relations at a high pointwhile Washington-Beijing ties are at their lowest ebb since the US switched diplomatic recognition from Taipei to Beijing in 1979.
Taiwan and Hong Kong, the two free societies under Beijing's shadow, share much in their democratic aspirations, as both coincidentally began their respective democratic reforms in the mid-1980s.
Over time, Taiwan has become one of the most lively and vibrant free democracies in Asia while democratic reform in Hong Kong has largely stalled since the handover due to deep disagreements between Beijing and Hongkongers. The Legislative Council election in 1995, introduced by the last British governor Chris Pattern, was the first, and last, fully elected legislative election in Hong Kong history.Taiwan and Hong Kong's shared grievances against Beijing could not have been more evident than in their mass protests in 2014. Taiwan's "sunflower movement" opposed a controversial trade pact with China. Hong Kong's "umbrella movement" protested against a political reform bill that would effectively allow Beijing to screen candidates standing for "direct election" of the chief executive.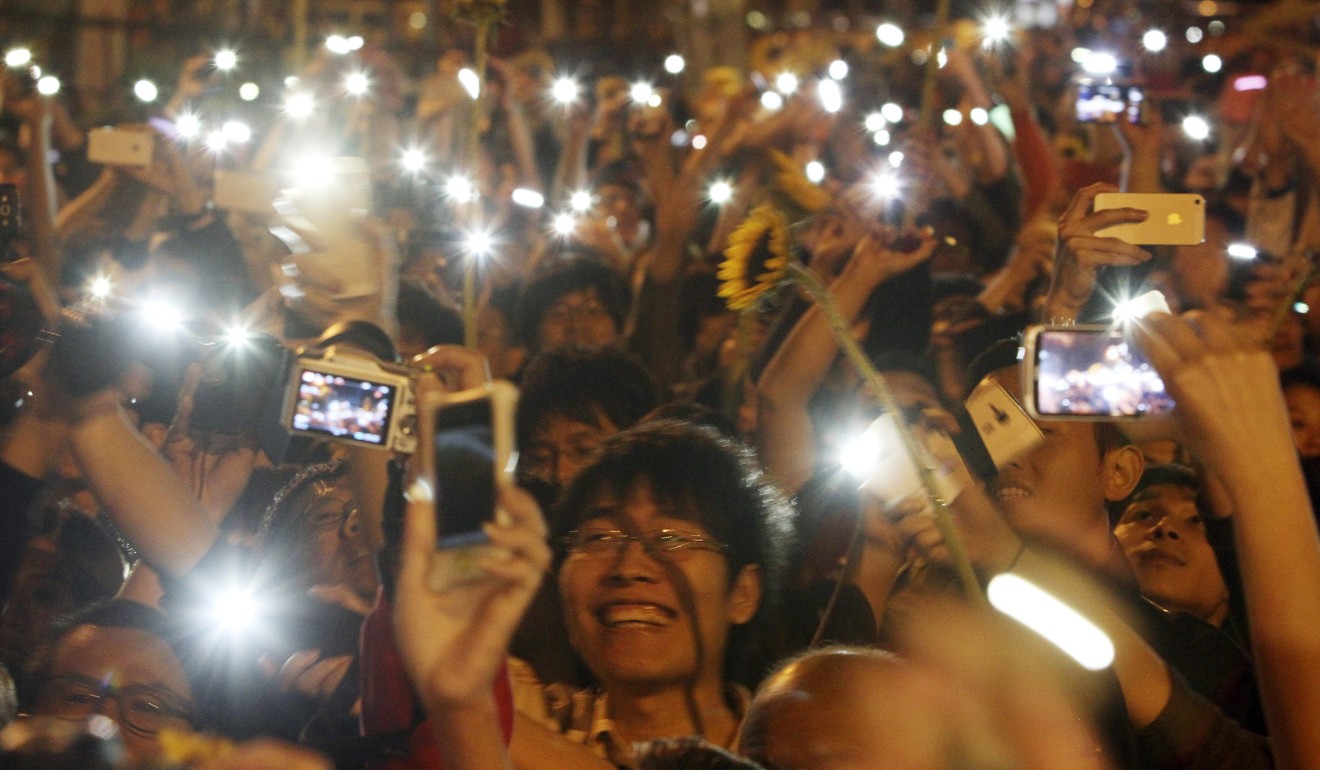 Students protesting against a trade pact with China cheer after leaving the legislature in Taipei, on April 10, 2014. The students ended their unprecedented 24-day occupation of Taiwan's Parliament after receiving assurances that the pact they claim imperils the island's autonomy would undergo legislative review. Photo: APShare:Hong Kong and Taiwan are also both ambiguous about their ethnic links with the mainland, as multiple surveys have suggested an increase in the number of people who identify themselves as "Hongkongers" or "Taiwanese" respectively rather than "Chinese".
In the short term, the Hong Kong protests may have helped boost Tsai and the DPP's prospects at the expense of the Beijing-friendly KMT in the upcoming elections. In the longer term, the protests may help further alienate Taiwan and the mainland, and Taiwanese and mainland Chinese people.
Cary Huang is a veteran China affairs columnist, having written on this topic since the early 1990s