(SCMP)
Hong Kong's future as international financial hub brought into question as Beijing pressures companies to toe Communist Party line on protest crackdown
Flagship carrier Cathay Pacific, as well as a host of developers, have already disassociated themselves from the demonstrations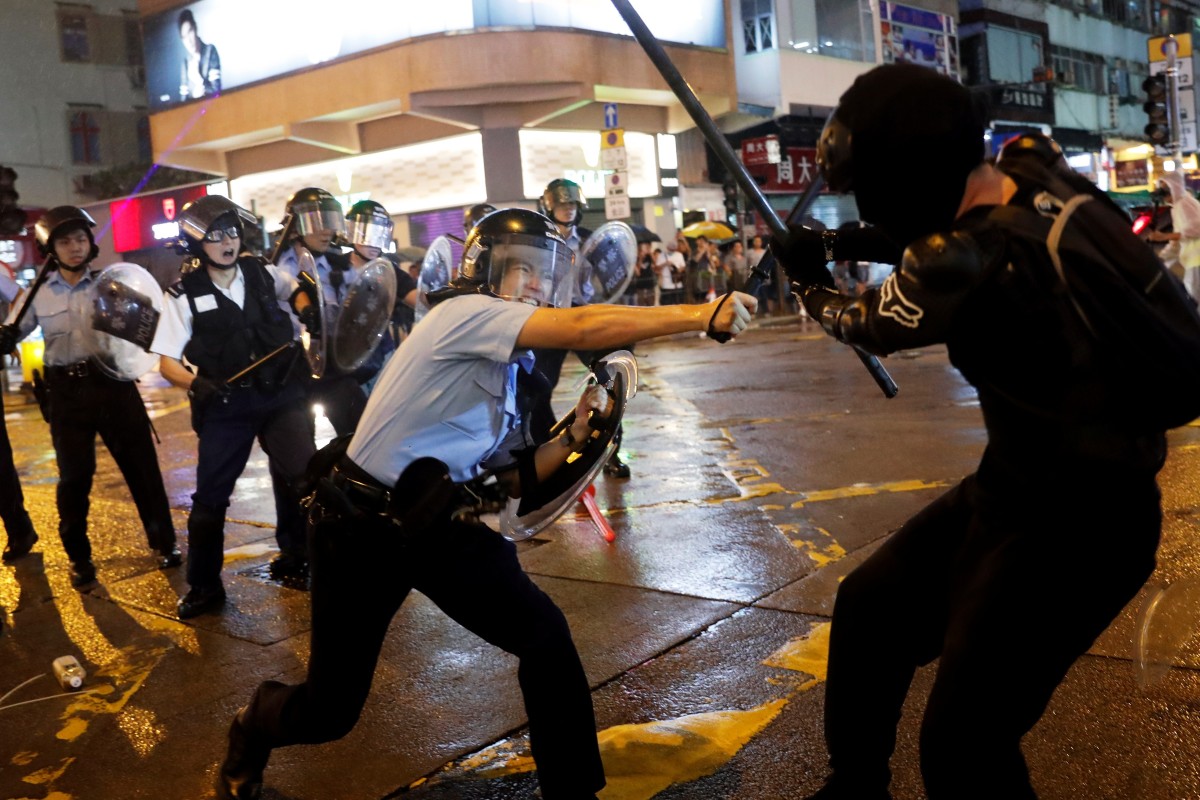 Ongoing anti-government demonstrations, heading into its third month, are showing Hong Kong's apprehension over the Chinese Communist Party's growing influence over the city's economic and political systems. Photo: Reuters
Free enterprises, unfettered access to information and Western-style laws have helped build Hong Kong's reputation as a major international financial centre, but China may now be willing to undermine those foundations of the city's success as politics increasingly take precedence over economics, analysts say.
That willingness, they said, reflected the importance to signal a clear political point of view, even at the expense of negative economic consequences that could result from a gradual erosion of the city's current structure of serving China's government and Chinese firms as a gateway to international investors and foreign capital.
Hong Kong's considerable independence in the legal system, regulatory environment and freedom in doing business after the handover to China in 1997 was ensured in the Sino-British Joint Declaration signed in 1984 that had been negotiated between China's late paramount leader Deng Xiaoping and then British prime minister Margaret Thatcher.But ongoing anti-government demonstrations,heading into its third month, are showing Hong Kong's apprehension over the Chinese Communist Party's growing influence over the city's economic and political systems.
"It would be a mistake to conclude that the authorities in Beijing don't realise the dangers to Hong Kong of the path they are following," said Mark Williams, chief Asia economist at Capital Economics. "They do, but they are far more concerned about the challenge to their authority if Hong Kong were allowed to choose its own path."
Beijing wants to use Hong Kong to showcase the competency of China's version of the rule of law, in which the legal system serves the economy by enforcing property and contractual rights but is ultimately subservient to the Communist Party, said Eswar Prasad, a professor at Cornell University and senior fellow at the Brookings Institution, last month.
"China has come to envision an entirely different purpose for Hong Kong," Prasad said. "It is to show that its vision of rule by the Communist Party, with some economic freedoms but restrictions on political and social freedom, might be preferable to the chaos of liberal Western democracies."
China has come to envision an entirely different purpose for Hong KongEswar Prasad
Many analysts previously believed that it would be difficult for Shanghai and Shenzhen to catch up to replace Hong Kong's key economic functions in the short term, where it has its own freely convertible currency and a de facto central bank to manage it, with the Heritage Foundation ranking Hong Kong as the world's freest economy for 25 years in a row.
But Hong Kong's overall status as a major international hub for commerce and finance may be gradually slipping away, with the potential for global investors to feel that the city's laws and regulations are no longer impartial as commercial decisions and companies are pressured to toe the Communist Party line and crack down on the protests.Cathay Pacific CEO Rupert Hogg was one of at least 20 aviation professionals to resign or be sacked to avert the risk of the carrier being barred from flying through mainland Chinese airspace.
At least 41 developers, including Sun Hung Kai Properties, Wharf (Holdings), Henderson Land Development, Hopewell Holdings and Chinese Estates Holdings, signed a joint statement to dissociate themselves from the protesters, or have individually expressed support to the government and the police via full-page newspaper adverts.
From the financial sector, HSBC, Standard Chartered, Bank of China (Hong Kong), and Bank of East Asia, along with the 'Big Four' accounting firms of KPMG, Ernst & Young, Deloitte and PwC have also taken out similar adverts.
In all likelihood, the protests may eventually dissipate as the Occupy Central movement did five years ago, said Carl Tannenbaum, chief economist at Northern Trust, which has US$132 billion of assets under management, but the damage to Hong Kong's attraction as an economic centre could be lasting.
"The uncertainty surrounding the sovereignty and stability of Hong Kong could limit inbound investment and give pause to foreign firms and workers in the principality," Tannenbaum said. "One of the few remaining links between East and West may be in danger of breaking."
With Beijing's economic evaluation of Hong Kong changing, Huang Tianlei, research analyst at the Peterson Institute for International Economics, noted that the city's growth prospects were also likely to be hit hard by mainland China's slowdown as well as its trade war with the United States.
Hong Kong's gross domestic product now accounts for 3 per cent of mainland China's, down from 18 per cent in 1997 when it was returned to Chinese control under the "one country, two systems" constitutional principle.
China's outlook could just be as grim, with the country as well as Chinese firms facing increasing difficulty to attract foreign capital. Global investors have viewed the Hong Kong stock exchange as an entry point to buy Chinese assets, while Chinese enterprises, including banks and property developers, have also taken advantage of the city's US dollar market to borrow US dollar-denominated funds.
The uncertainty surrounding the sovereignty and stability of Hong Kong could limit inbound investment and give pause to foreign firms and workers in the principalityCarl Tannenbaum
Foreign investors are also likely suffer losses if the crisis is resolved with military intervention, said Pei Minxin, professor of government at Claremont McKenna College in California, the author of China's Crony Capitalism.
Beijing has so far decided not to deploy the People's Liberation Army, or the Communist Party's armed forces, to deal with the unrest in Hong Kong. Nevertheless, the city's Chief Executive Carrie Lam Cheng Yuet-ngor this week left the door open to invoke the Emergency Regulations Ordinance for the first time in 50 years, which may be akin to martial law and aimed at stamping out the uprising.
The political crisis in Hong Kong has attracted global attention, forcing China to show some restraint. Leaders of Britain, Canada, France, Germany, Italy, Japan and the US, which have citizens and firms based in Hong Kong, have backed the city's autonomy in a Group of Seven (G7) joint statement as laid out in the Sino-British agreement.
US lawmakers also reintroduced a Hong Kong Human Rights and Democracy Act, which could punish Hong Kong officials who harm human rights and freedoms in the city related to the political events and their use of repressive behaviour.
"Either way, the damage is done and it is very difficult to reverse things," Pei said.