(FT)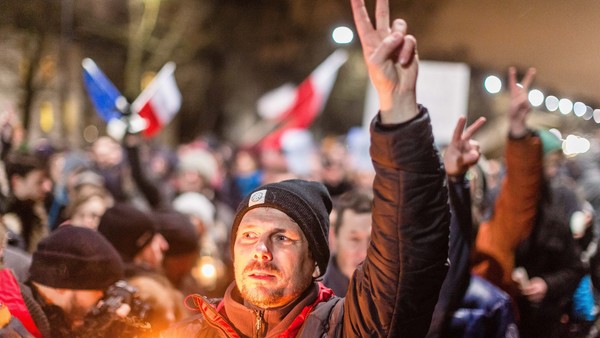 ©AFP
Jaroslaw Jablonski was just a teenager when Poland rose up against communism in the 1980s through a campaign of strikes and protests that ultimately brought freedom to eastern Europe.
Yet 26 years on from the fall of the Berlin Wall, the 47-year-old felt compelled to march through central Warsaw this week in defence of his country's democracy.
"The government changed a month ago, and can you see what is going on already?" he asked, waving a white-and-red Polish flag. "For the past many years the nation was never as divided as it is now."
Tens of thousands of Poles have taken to the streets over the past fortnight with increasing passion and fervour on both sides of a bitter and deepening political divide that has wrenched Polish society in two since the sweeping election victory of the rightwing nationalist Law and Justice party in October.
Prosperous and progressive since entering the EU in 2004, Poland is the largest economy and most politically powerful country in eastern Europe. It has been held up as a model of EU expansion and post-Soviet transition.
But the swiftness with which Law and Justice, led by the pugnacious and bellicose Jaroslaw Kaczynski, has sought to accumulate power since returning to office after eight years in opposition has shaken Polish society and deepened rifts between its people.
Mr Kaczynski's more nationalist, conservative supporters — who felt abandoned by the previous liberal, progressive administration — are now on the march. Tens of thousands of them gathered in Warsaw last weekend in a show of support for the new government, 24 hours after a big anti-government protest.
"We came here to support the government and show them that they are not alone," said Łukasz Bienkowski, 31. "We really appreciate their will to change and to fix this depravation that happened during the [previous government's] rule."
One minister in the new government said: "For years, the anger at the previous administration has been building among a silent majority. Now what you are seeing is these people demanding we make changes."
In its first month in office, Law and Justice — more Eurosceptic and socially conservative than its predecessor — moved quickly to remove political opponents from government agencies and state-run companies, threatened media outlets and cultural bodies, and vowed to roll back previous legislation.
In an unusually dramatic move, military police staged a night-time raid on a Nato-affiliated facility in Warsaw at 1.30am on Friday to oust the management.
Senior ministers have suggested the government should also take a role in determining what cultural and arts performances are appropriate — startling an urban, liberal elite who are largely pro-European and have enjoyed a decade of steadily rising incomes.
Rafal Trzaskowski, a senior opposition MP and former minister, accused the new government of "stigmatising political opponents and dividing Poles by caste and type".
Ben Stanley, a professor at the University of Social Sciences and Humanities in Warsaw, sees the reawakening of a debate that has simmered in Poland since the country broke free from Soviet domination.
"These are divides that are essentially about different attitudes to how the transition [from communism] should have taken place," he said. While Poland's liberal elite has grown accustomed to the country's steady move towards integration with western Europe, Mr Kaczynski has challenged the assumed logic that progressive liberal values should be accepted without question.
Against that backdrop, the deepest divisions centre on the battle for control of the Constitutional Tribunal, Poland's highest legislative court. In moves that some legal experts say breached the country's constitution, Mr Kaczynski's party blocked the appointment of five judges nominated to the court by the opposition and replaced them with political appointees.
While the machinations and legal arguments are complex, the emotional reaction is simple: some see an authoritarian attempt by a party that has a parliamentary majority and control of the presidency to seize even more power; others see the defeated opposition trying to stymie the new administration.
Fifty-six per cent of Poles say they feel the country's democracy is in danger, according to recent polling.
"Those appointments were made based on a faulty law," said Beata Szydlo, Poland's prime minister, who was selected by Mr Kaczynski. "We are only fixing it".
Deeply suspicious of outside influences and a master of divisive rhetoric, Mr Kaczynski is a hate figure for Poland's liberal middle classes, but a hero of the Roman Catholic working class. He spent eight years in opposition after being turfed from power in 2007, and now wields absolute power over the ruling party, despite not holding any constitutional role or official title, aside from his seat in parliament.
He has described opposition MPs who have raised the tribunal issue with EU bodies as "the worst sort of Poles", and has said that those protesting against the government are "not people with agile minds".
It is a marked change in rhetoric from the party's campaign pitch in the autumn. Then, with Mr Kaczynski silent and hidden from view for fear of alienating voters, Ms Szydlo told the electorate: "In the white-and-red team of Law and Justice, there is a place for all Polish people, regardless who they choose."
For many urban Poles, the return to divisive tactics last seen under Mr Kaczynski's aborted administration between 2005 and 2007 heralds a worrying time for the country and its standing in the international community.
The European Parliament will debate the political situation in Poland on January 19, after Martin Schulz, the EU parliament's president, said Mr Kaczynski's actions resembled "a coup" — remarks that were met with indignation by government ministers.Brussels-to-review-Poland's-media-crackdown-FT-1