Anchor Opinion
…Watch China…
…It is the most important thing to watch, in my opinion.
…If the Chinese markets collapse, the destruction of money will be of such proportions that it will cause major deflationary head winds around the globe.
…And of an unimaginable scale.
…I personally doubt, that if events would turn out that way, and let's hope they don't, that it would be possible to control events.
…Just think…
…If Japan has not been able to get rid of deflation for more years than I can    remember, how could deflationary head winds of a much greater scale be tamed?
   But China is not a democracy like Japan.
   Consensus decision-making is not exactly what is usual in China…
   So the government has more powers to control events.
   Anyway, let's hope that nothing of this happens.
Francisco (Abouaf) de Curiel Marques Pereira
Post Scriptum: As a suggestion please read the superb book by David Graeber
"Debt: The First 5000 Years"

—
(BBG) The global stocks rally stumbled as Chinese equities dropped by the most since February and oil sank toward $40 a barrel, while demand for haven assets lifted sovereign bonds.
The Stoxx Europe 600 Index failed to extend a three-month high and the Shanghai Composite Index fell more than 2 percent as the People's Bank of China signaled a reduced appetite for monetary easing. Crude oil also weighed on equities after Kuwait workers said they would end a strike and Japanese government bond yields fell to records. BHP Billiton Ltd. and Rio Tinto Group paced miners higher after BHP cut its iron ore production forecast for its Australian operations, spurring gains in the material's price.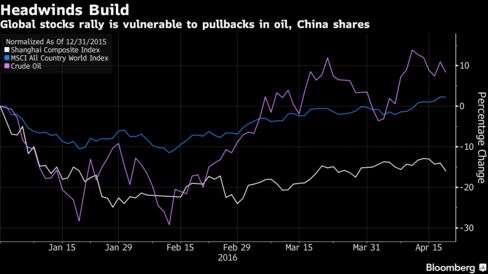 Global equities have climbed more than 15 percent from this year's low, spurred by signs of stabilization in China's economy and oil prices, after a sliding yuan and tumbling crude costs drove a $7 trillion selloff in the first half of January. Wednesday's pullback in Shanghai shares came after PBOC research bureau chief economist Ma Jun said late Tuesday that future policy operations, while observing the need to continue supporting growth, will pay attention to heading off macroeconomic risks. Also casting a chill on global financial markets was an end to aworker strike in Kuwait, which had propped up oil prices after major producers failed to agree to output curbs at weekend talks in Doha.
"It's difficult to find a major positive trigger from here," said Otto Waser, chief investment officer at R&A Research & Asset Management. "Central banks are done so we don't expect anything positive from them anymore. Earnings trends are not positive enough in Europe to support a major positive market."
The MSCI All-Country Index was little changed at 7:01 a.m. New York time after falling as much as 0.2 percent. West Texas Intermediate crude dropped 2 percent to $40.26 a barrel.
Turkey's central bank to cut its overnight lending rate in line with economist forecasts. U.S. companies including Coca-Cola Co. and American Express Co. are releasing earnings on Wednesday. A U.K. jobs report Wednesday showed unemployment rose for the first time in seven months and pay-growth excluding bonuses was unchanged.
Stocks
The Stoxx 600 fell 0.1 percent with health care and retail companies posting the biggest losses. BHP Billiton and Rio Tinto added more than 2 percent.
Despite recent gains, the European gauge has still tumbled 16 percent since reaching a record a year ago, and optimism over European Central Bank stimulus has given way to skepticism about its ability to boost growth.
Investors are also awaiting the ECB's next meeting on Thursday for clues about the path of monetary policy. While economists are virtually certain ECB President Mario Draghi won't touch interest rates, recent history shows that increased stock volatility is still likely. Intraday swings for the Euro Stoxx 50 Index averaged 4.1 percent during the ECB President's past four policy updates, or about double that for all meetings since 2010.
Futures on the Standard & Poor's 500 Index were little changed after the gauge closed above 2,100 for the first time since since Dec. 1. Of the benchmark's 60 members to have reported first-quarter earnings by Tuesday, 77 percent have beaten profit estimates, according to data compiled by Bloomberg.
Intel Corp. dropped 2.4 percent in premarket trading after its first-quarter revenue and forecast for the next three months missedanalysts' estimates. U.S. Bancorp slid 2 percent after its quarterly profit fell.
Benchmark share gauges fell across Asia's developing economies and the MSCI Emerging Markets Index retreated from a five-month high. Japan's Topix index closed up 0.2 percent, after earlier climbing as much as 1.3 percent. Mitsubishi Motors Corp. tumbled 15 percent, its biggest loss in more than a decade, after the company said it would brief media on "improper fuel economy" tests. It subsequently admitted to manipulating test data involving 625,000 vehicles in order to improve fuel-economy claims.
The Shanghai Composite Index posted its lowest close this month and Hong Kong's Hang Seng Index was down 1.2 percent.
Currencies
The yen was little changed at 109.22 per dollar after strengthening as much as 0.4 percent following comments by Bank of Japan Governor Haruhiko Kuroda that monetary easing is not a promise of a weaker currency or stronger equities. Japanese exports dropped 6.8 percent from a year earlier in March, while imports declined 14.9 percent, data showed Wednesday.
The New Zealand dollar retreated from its strongest level since June. The kiwi weakened 0.6 percent to 70.04 U.S. cents after breaching the 70-cent mark on Tuesday for the first time since June.
The won rose as much as 0.7 percent to a five-month high, before closing 0.1 percent higher in Seoul. China's yuan weakened for the first time in four days.
The MSCI Emerging Markets Currency Index rose 0.3 percent to the highest since July.
India's rupee climbed 0.6 percent, the most in a month, after the nation's trade deficit narrowed to a five-year low. Malaysia's ringgit rose 0.6 percent.
Turkey's lira rose 0.6 percent. Policy makers, who met for the first time under their new central bank chief, Murat Cetinkaya, cut the upper band of a three-pronged rate corridor by 50 basis points to 10 percent.
Commodities
West Texas Intermediate crude oil was lower after rising 3.3 percent on Tuesday amid a three-day labor strike that reduced Kuwait's output by as much as 1.7 million barrels a day. The country is OPEC's fourth-largest producer.
"The size of the disruption, had the strike persisted, would have been quite significant," Ric Spooner, a chief market analyst at CMC Markets in Sydney, said by phone. "It took quite a lot of oil out of production."
Silver gained as much as 1.8 percent, before trimming its advance to 0.4 percent. The metal surged 22 percent this year and entered a bull market on Tuesday after money managers last week increased their net-long positions by 30 percent to a record.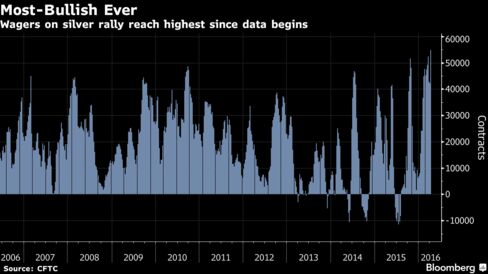 Iron ore futures traded on the Dalian Commodity Exchange climbed as much as 5.9 percent to the highest level since June 2015 on BHP Billiton's production forecast cut. Rio de Janeiro-based Vale SA, the largest iron-ore miner, is expected to report record output for the first quarter on Wednesday.
Bonds
Treasuries rose as demand for the safest assets was fed by declines in stocks and oil. The yield on 10-year U.S. Treasuries fell one basis point to 1.77 percent. It may drop to a never-before-seen 1.25 percent in 2016 as investors seek alternatives to lower-yielding securities elsewhere in the world, according to Robert Tipp, the head of global bonds and foreign exchange for the fixed-income division of Prudential Financial Inc.
While the yield on 10-year Treasuries was less than half a percentage point from its record low reached in 2012, the securities offered a yield pick-up of 160 basis points over similar-maturity German bonds and about 188 basis points over Japanese government debt.
Japan's 40-year bond yield fell to a record low, meaning all the nation's sovereign bonds yield less than 0.3 percent, as investors rush for securities with positive income.
The cost of insuring corporate debt against default rose for the first time this week. The Markit iTraxx Europe Index of credit-default swaps on investment-grade companies climbed one basis point to 72 basis points. A measure of swaps on junk-rated businesses rose two basis points to 305 basis points. Both indexes remain near the lowest in about a month.
Malaysia is moving closer to selling global Islamic bonds. It may price the 10- and 30-year dollar notes at 150 and 165 basis points over U.S. Treasuries, according to a person familiar with the matter who isn't authorized to speak publicly. Based on current market yields, that would suggest a coupon rate of 3.27 percent for the shorter-maturity notes and 4.23 percent for the longer-term debt.