P.O.  
…No…No… You are not telling me Francisco that "Deutsche Bank Faces Fresh Investor Ire"…
Please see my numerous P.O. on Deutsche Bank:
+++ P.O. (BBG) Deutsche Bank Struggles to Shake Winter Blues in Credit Markets
+++ P.O. (FT) Deutsche Bank chairman denies pressure to step down
+++ P.O. (BBG) Deutsche Bank, UBS Must Pay for Avoiding Bonus Taxes, Judges Say
+++ P.O./V.I. (BBG) Deutsche Bank Says It Can Pay Debts in Sign Jitters Mounting
+++P.O./V.I. (FT) Charges to drive Deutsche Bank to €6.7bn loss
+++ P.O. (BBG) Deutsche Bank Tally of Suspect Russia Trades Said at $10 Billion
+++ P.O. V.I. (BBG) Germany Opposes Shared Risk in Deposit Insurance, Ministry Says
+++ P.O./V.I. (FT) Deutsche Bank created complex tax avoidance strategies
P.O. (FT) Deutsche Bank is still stuck in the middle of global finance 
++++ M.P.O. (BBG) UniCredit Plans to Shrink Workforce by About 18, 200 by 2018
P.O. (BBG) Deutsche Bank Said Planning 1,000 London Job Cuts: Sunday Times
+++ P.O./V.I. (BBG) Deutsche Bank Says It Can Pay Debts in Sign Jitters Mounting
+++ O.P. (JN) Acções do Deutsche Bank descem após ameaça de corte de "rating"

It's all in there.
And I have been saying it for years.
Francisco (Abouaf) de Curiel Marques Pereira
—
(BBG) Deutsche Bank AG investors expressed their frustration with management at the company's annual meeting a year ago. Weeks later, co-Chief Executive Officer Anshu Jain was gone.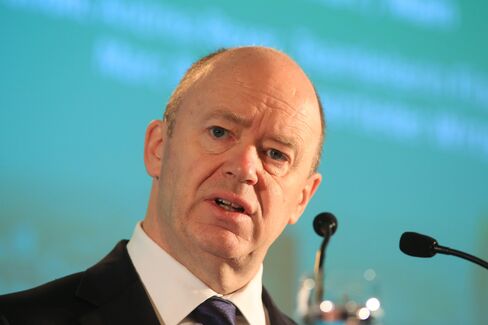 Now it's Chairman Paul Achleitner and Jain's replacement, John Cryan, who are set to feel the displeasure of shareholders when they gather in Frankfurt on Thursday. With revenue plunging and the need for capital mounting, some investors worry it may be just a matter of time of before they're asked to stump up and buy new stock.
"The mood's going to be bad, maybe even worse than at last year's meeting," said Klaus Nieding, vice president of DSW, a German firm that advises shareholders on company proposals.
Deutsche Bank shares dropped by more than half in the past year — erasing about 20 billion euros ($22.6 billion) in market value — as plans to bolster capital and slash costs failed to revive confidence and profits shriveled across the industry. For Achleitner, a supervisory board dispute in April raised questions about his commitment to rooting out misconduct at Germany's largest bank.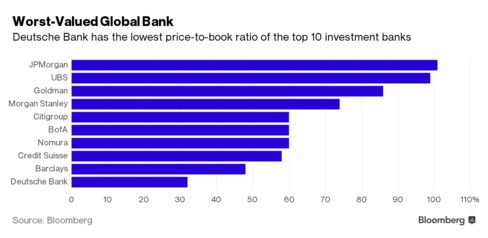 Jain, 53, resigned in June after he and co-CEO Juergen Fitschen received the lowest approval rating in at least a decade in a vote at last year's annual meeting. Fitschen, 67, will stand down on Thursday, leaving Cryan as sole CEO.
Achleitner, 59, and Cryan, 55, declined to comment for this story through a spokesman.
Cryan, a British citizen who chaired the audit committee of the supervisory board before becoming co-CEO, has been outspoken about the company's shortcomings, criticizing excessive pay, spiraling legal costs and outdated technology.
He suspended the dividend to bolster capital and pledged to shed about 9,000 jobs, or almost 10 percent of the workforce, and shrink the investment bank by scaling back the debt-trading empire built by Jain. While some investors applauded the cost reductions as long overdue, others expressed concern the cutting would eat too deeply into sales, especially during a trading slump.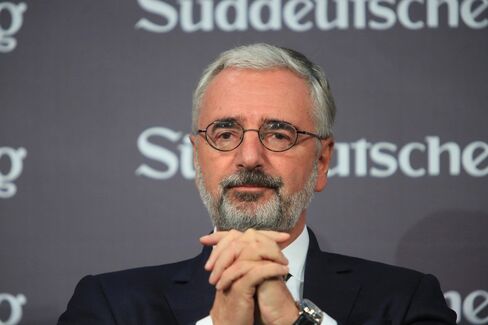 Debt-trading revenue, Deutsche Bank's largest source of income, fell 29 percent in the first quarter from a year before, while net income dropped 61 percent. Cryan told analysts last month that his efforts to overhaul the company and settle outstanding legal matters may lead to a second straight annual loss. "The issue that we have is that we want to get an awful lot done this year," he said.
An official at a top-20 Deutsche Bank shareholder said his firm backs Cryan, but questions whether he can turn the bank around given the weaker revenue picture and a potentially demoralized staff. A fund manager at one of the lender's 10 largest investors said he was disappointed by previous attempts to push down costs and wants to see Cryan make progress on that front. Both asked for anonymity because they're not authorized to speak publicly.
'Insurmountable Headwinds'
"We need to move into the world of showing progress," said Barrington Pitt Miller, an analyst with Janus Capital Group Inc., one of Deutsche Bank's 50 biggest shareholders.
It's hard to see how Cryan can overhaul the business without raising more capital, while it's also not clear investors would be willing to provide it if asked, Berenberg analyst James Chappell said in a note Monday. Saying the bank faces "insurmountable headwinds," he cut his rating to sell from hold and lowered his share price target to 9 euros, or 38 percent below Tuesday's closing level. The shares traded at 14.21 euros at 10:26 a.m. in Frankfurt, down 1.4 percent.
Crucial to improving profit, capital and morale will be settling the bank's legal troubles. Deutsche Bank's costs and provisions for fines and lawsuits amounted to 12.6 billion euros since 2012, the most of any bank in continental Europe. That's eroding earnings and equity at a time when regulators are demanding banks hold more capital.
'Conduct Incidents'
"We are concerned that Deutsche Bank continues to experience conduct incidents," Hans-Christoph Hirt, co-head of Hermes EOS, which speaks on behalf of more than 40 of the company's institutional investors, said in a statement from London on Wednesday. "We urge the management board to make compliance, risk management and the creation of a culture that facilitates sustainable value creation and minimizes conduct incidents an integral part of the bank's new business model."
Deutsche Bank's legal matters generated headlines last month when a supervisory board spat spilled into the open. Georg Thoma, a director who oversaw a committee probing wrongdoing, resigned after deputy Chairman Alfred Herling accused him of being "overzealous." Fellow director Henning Kagermann told Frankfurter Allgemeine Sonntagszeitung last month the bank has to able to move on and focus on its future.
Thoma Resignation
Thoma's resignation raises "questions about potential conflicts of interest and the supervisory board's ability to investigate conduct by its own members," Institutional Shareholder Services Inc. said in a report. Glass Lewis, another shareholder-advisory firm, said it's concerned the scale of the regulatory investigations of Deutsche Bank's alleged misconduct "are indicative of potential widespread oversight failures on behalf of the supervisory board."
ISS advises shareholders to support the supervisory board's actions in the last year in a non-binding vote at the annual meeting, while Glass Lewis does not. Both say Cryan, less than a year into the job, should receive the backing of Deutsche Bank's investors.
Hermes said it views the supervisory board's actions last year positively on balance. A discussion about elections and reelections to that body next year, when Achleitner's term expires, isn't in the interest of Deutsche Bank and its shareholders, according to Hirt.
Markus Kienle, a management board member at the German shareholders association SdK, said he'll probably criticize the supervisory board at the meeting.
"We get the impression that Achleitner doesn't have his board in order," said Kienle, whose group represents investors who own a total of more than 1 million Deutsche Bank shares. "He has a lot of explaining to do. Still, we have to be careful to not weaken Deutsche Bank too much, because if Achleitner was to quit, who would do the job?"