P.O.
Looking at the signs, namely the number of non working Federal and State services, I  allways suspected that the "cooking" of the books and of the accounts was very serious.
But some voices said I was exaggerating.
It actually turned out that I was being very conservative in my judgement.
If Brazil was a company I would have been bankrupt.
And bankrupt beyond recovery.
And a long time ago..
All the accomplices in this nightmare should have been behind bars, also a long time ago.
Imagine what it is, to rely on some medicine to live, and not being able to get it because the Federation and the State are bust…
What led to this situation is a form of criminal behaviour…
There is no way around it…
It´s criminal.
Because if the real numbers had been known, the much less severe adjustment would have been done a long  time ago.
What can one say…?
..Crooks…
Thesaurus
Criminals – general words
"crook": sinônimos e palavras relacionadas:
 abet
 accessory
 accomplice
 culprit
 delinquent
 felon
 gangbanger
 gangland
 juvenile delinquent
 lawbreaker
 lowlife
 offender
 outlaw
 perp
 perpetrator
 probationer
 transgress
 villain
 wanted
 wrongdoer
Behind bars, that's were they all should be.
Francisco (Abouaf) de Curiel Marques Pereira
—
(BBG) Brazil bond investors are dialing back their optimism after newly appointed Finance Minister Henrique Meirelles acknowledged that the country's fiscal problems are much worse than anyone had imagined.
Yields on government notes due in 2025 have jumped 0.55 percentage point from an almost 12-month low on May 12, when the minister took office. Since then, Meirelles — part of a group of cabinet officials that Goldman Sachs Group Inc. dubbed a "dream team" — has said the economy is in worse shape than he anticipated. Brazil will also face a budget deficit excluding interest payments that's 75 percent greater than the one forecast by the previous government.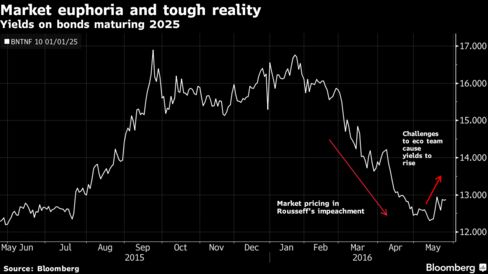 Investors had piled into Brazil's local bonds on speculation the ouster of President Dilma Rousseff would pave the way for a new government better able to pull Latin America's biggest economy out of its worst recession in a century. Acting President Michel Temer said on Tuesday that he'll ask Congress to limit subsidies and approve a cap on government spending as he seeks to restore investor confidence.
"The economic situation is very troubling and the way to solve this situation is with unpopular measures that are difficult to pass in Congress," said Rodrigo Melo, chief economist at Rio de Janeiro-based Icatu Vanguarda Ltda. "This explains why the yields have risen somewhat from when Temer took office."
A constitutional amendment needed to implement the spending cap could be sent to Congress in two weeks, according to Meirelles. It must be approved twice by three-fifths of both houses.
On May 23, the government submitted a bill that would allow it to report a record primary budget shortfall of 170.5 billion reais ($48.4 billion) in 2016, compared with a projection of 97 billion reais by Rousseff's government.
The economy will contract 3.83 percent this year after shrinking 3.85 percent in 2015, according to economists surveyed by the central bank.
"We are looking at how bad the situation really is, and the new economic team will have to work at the top of their undeniable capability," said Alberto Ramos, chief Latin America economist at Goldman Sachs. "This will be a long struggle."